Direct MIDI to MP3 Converter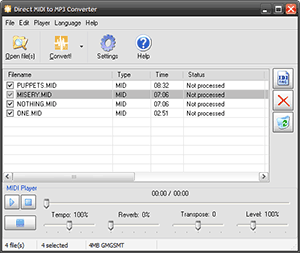 Show more testimonials...
"Direct MIDI to MP3 Converter has opened wide new avenues of expression for me creatively. The program works as advertised and is easy to use. I'm a music producer who uses mostly wav files in my productions. I've always wanted to incorporate MIDI, but had no easy way to turn the MIDI into wavs. I no longer have to jump through hoops to convert MIDI tracks into audio tracks. Thank you Pistonsoft!"
Randy Lane, Concrete Music San Diego
"As a kid, I used a program called Cakewalk to compose music in MIDI format. I've been hanging onto these files for forever, and having given up windows had no way of playing them reliably until now. It's been quite a blast of nostalgia, and I'm grateful for this software. Thanks so much."
Seanmeh
"Now I succeeded in finding a converter program that pleases me very much. I had to try out at least ten programs. Nine of them relied on the playback and record functions in my sound-card, so they did not work! Number ten do not rely on a sound card at all, so it works! You don't have to fuss with recording levels and it even work faster! I've measured that it takes
less than 12.5%
of the playback time to convert a midi-file to a MP3-file. On top of it all you can choose the very
sound font
file (*.sf2) you want in the conversion."
S.V.Nielsen
"It works good! Nice simple
Direct MIDI to MP3 Converter
, I am a MIDI artist but I wanted to put my works on an audio CD but my distributor only allowed MP3s so I converted them with this. Sometimes it can be too simple but not too much. It's not really good enough to pay for, but it's price is better than others I've seen. Lack in features, if they are open for suggestions I would say that you should be able to specify what the ID3 tag should be for ALL the files you convert. (Done!)"
DtD
"
Direct MIDI to MP3/WAV Converter
- a nice program, I put yours up against three others and it was best, hands down."
Dave
"Thank you for
Direct MIDI to MP3 Converter
! You are the only company that I have found who has a FULL trial of your software, albeit for a limited time. You have saved my you-know-what as I have to perform a song tonight and I could not find any way to change the midi file that I needed into a format that I could play on a regular CD player. Your software is excellent, easy to use and I play on spreading the word about it to everyone that I know who does this sort of thing. Thank you again."
Lynnda Felhaber
You can get your own fast Direct MIDI to MP3 Converter for free! Get your free MIDI to MP3 Converter now!
Direct MIDI to MP3 Converter is a fast audio utility that allows you to convert MIDI to MP3, WAV, WMA and OGG formats. Our audio MIDI converter can quickly render any MIDI file into an audio format that you can burn to an audio CD and play on a regular CD player..
A key difference between our fast MIDI to MP3/WAV converter and other similar programs is that our fast converter provides direct MIDI conversion (rendering) without sound recording. The main advantages of direct MIDI conversion are the CD audio quality, the conversion speed and the silence during conversion. You don't need to listen to the MIDI music, nor adjust the recording level while converting. Just drag and drop your MIDI files and the rest is done automatically by Direct MIDI Converter! Conversion speed is up to 10 times faster than the original MIDI file time! Musicians can use their own SF2 Soundfonts for fast rendering and change the instruments' quality.
A built-in audio player (with trackbar) helps you pre-listen to MIDI, MID, RMI or Karaoke files before fast converting. And the built-in, easy-to-use OGG/WMA/MP3 Tag Editor helps you name your MP3, WMA or OGG tracks. The batch mode helps you quickly and simultaneously convert multiple MIDI tracks to MP3. The fast batch MIDI to WAVE conversion is very useful for creating music collections on an audio CD. The resulting WAV or MP3 files can then be burned to an audio CD using any CD burning or recording program. Or you can download it to your Apple iPod or other portable MP3 player if you like.
Using the Tempo Change feature, you can create an album of your favorite MIDI or Karaoke MIDI compositions performed at any tempo. Quality options are adjustable. You can fast convert your favorite mobile phone MIDI ringtones to MP3 with adjustable reverberation.
Direct MIDI into MP3 Converter is a great choice for MIDI artists, plus amateur or professional musicians who compose MIDI music using digital pianos, keyboards or music sequencers, and need a fast tool to convert MIDI (MID, RMI, KAR) files to popular audio formats. Even better, our program's multilingual interface is perfect for people who want to record MIDI, MID, RMI and KAR files to an audio CD. All popular MIDI formats are supported: MIDI, RIFF MIDI and Karaoke MIDI.
We are the only company which has a full-featured trial of our MIDI converting software: the conversion time is not limited.
Direct MIDI to MP3 Converter's features:
Smart, fast MIDI rendering engine - up to 10 times faster than the original MIDI file time;
Audio CD quality because of internal fast conversion without recording;
Dual recording engine with Direct Music support;
SF2 Soundfont support;
Adjustable reverb control;
Adjustable Midi tempo;
Fast batch conversion mode that saves time;
Most popular MIDI formats are supported;
Adjustable qualities and bitrates;
High-quality built-in MIDI player with trackbar;
Fully-featured OGG/WMA/MP3 Tag editor;
Full support for ID3 MP3 tags;
Full support for WMA tags;
Full support for OGG tags;
Multilingual interface;
Hot keys for all operations;
An easy-to-use drag and drop interface;
Recording Level adjustment;
Ability to minimize program during MIDI conversion;
Transpose MIDI feature to change keys;
All available directions: MIDI to MP3, MIDI to WAV, MIDI to WMA, MIDI to OGG, MIDI to WAVE, MID to MP3, MID to WAV, MID to WMA, MID to OGG, MID to WAVE, RMI to MP3, RMI to WAV, RMI to WMA, RMI to OGG, RMI to WAVE, KAR to MP3, KAR to WAV, KAR to WMA, KAR to OGG, KAR to WAVE;
Windows Vista, Seven 7 compatible.
We hope you enjoy all the features we've put into our fast Direct MIDI to MP3 Converter.
---
If you want to split MP3 or WAV files into parts, use Direct WAV MP3 Splitter.
If you want to join multiple MP3 files, use Direct MP3 Joiner.
To convert audio files between various audio formats and rip CD audio tracks directly to MP3, WMA, WAV, OGG, FLAC, Monkey's Audio APE or MusePack MPC, use Direct Audio Converter and CD Ripper.
If you want to quickly convert MIDI to MP3, please use Direct MIDI to MP3 Converter.
MP3 Audio Recorder - Record high-quality music or low-bitrate audio streams directly into compressed sound files.
Pistonsoft MP3 Tags Editor is a powerful audio tagger to edit MP3, OGG, ASF and WMA tags of audio files. MP3 Tag Editor also allows you to create playlists, rename files, organize folders, export data to different formats, and more.
Freeware BPM Detector - Count Song's Beats per Minute Automatically.
Text to Speech Converter - Convert any text, document or Web page into an audio book or voice.