Midi Guitar Converter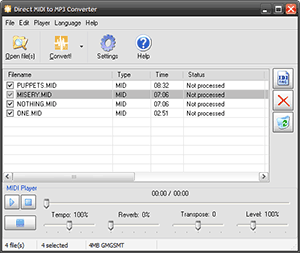 Show more testimonials...
"Cool product. I do a one-man-band thing and I'm converting all my midi's to mp3 so I don't have to carry around a larger and more expensive midi player."
Phillip Murray
"I have tried MIDI to MP3 Converter from other companies and you like to confess absolute leadership in the field. Your MIDI Converter is really the best not only in terms of simplicity, but also in the final, the final sound on Mp3."
Jaroslav Tihlar
I am very pleased to have found the
Direct MIDI to MP3 Converter
tools.
As part of our daily family devotions, we like to sing a variety of psalms, songs, and hymns. While some of them are familiar to us, there are others that we would like to learn that we are not familiar with. The goal is to have a full sounding accompaniment with the songs, and a way to emphasize the melody line while learning new songs.
I play guitar
, so am able to accompany the songs that we know, and can pick out the melody for new songs, but it is harder to be consistent and to get the timing right each time. Also, there are a number of songs that don't list the chords, so it is a lot more work to try to accompany the song with the guitar.
Fortunately, for many of the hymns, there are midi files available for use. I am also able to use a midi editor to create a midi file for the rest of the songs. However, it is not very convenient to have to carry the laptop into the living room, and try to select each song when desired. Also, because of hard drive activity, there are unpredictable spurts and delays during the playback. That can sort of detract from our singing experience!

The best way is to
convert the songs to mp3 files
, and to put them on a small mp3 player. It is then easy to navigate to each song, and is not as distracting while singing. They can also then are taken anywhere, without even requiring a computer. Just plug in some powered speakers and you have instant accompaniment.
So, that's where the
Direct MIDI to MP3 Converter
comes in! Once the midi file has been found or created, it can easily be converted to an mp3 file using this tool. It is so easy to use, and does a great job for the type of use that we want it for. I haven't yet used the transpose or tempo adjustments, but I have used the volume control to give a little more source volume for the mp3 file (I have limited controls on the Olympus WS-300M Digital recorder and MP3 player that I use).

I can also create two midi files - one with just the melody, and the other with the full treble and bass staffs. While learning the melody, we use that file, and then switch to the other when we have the melody down.
I have already been using another product from PistonSoft - the
Direct WAV MP3 Splitter
(which also is a great tool -
check it out!
), so I was glad to find they also had a midi file converter. I was able to convert a number of files during the trial period to determine it is exactly what I am looking for! It is a very fast converter - it can convert a 5 minute file in a very short time.
There is another way of creating some of the files using both the
Direct MIDI Converter
and the
Direct WAV MP3 Splitter
tools. Some of the existing hymn midi files that were mentioned col-sm-12ously have an extra verse in them, to be used as an intro. That can detract from the singing while waiting for the first verse to start.
However, the midi file can first be converted to an mp3 file using the
Direct MIDI to MP3 Converter
tool. Then, the
Direct WAV MP3 Splitter
tool can be used to trim off the first introduction verse and to keep the rest of the song. Of course, this is not necessary if you have access to a midi file editor, but it is nice to have different options.
---
If you want to split MP3 or WAV files into parts, use Direct WAV MP3 Splitter.
If you want to join multiple MP3 files, use Direct MP3 Joiner.
To convert audio files between various audio formats and rip CD audio tracks directly to MP3, WMA, WAV, OGG, FLAC, Monkey's Audio APE or MusePack MPC, use Direct Audio Converter and CD Ripper.
If you want to quickly convert MIDI to MP3, please use Direct MIDI to MP3 Converter.
MP3 Audio Recorder - Record high-quality music or low-bitrate audio streams directly into compressed sound files.
Pistonsoft MP3 Tags Editor is a powerful audio tagger to edit MP3, OGG, ASF and WMA tags of audio files. MP3 Tag Editor also allows you to create playlists, rename files, organize folders, export data to different formats, and more.
Freeware BPM Detector - Count Song's Beats per Minute Automatically.
Text to Speech Converter - Convert any text, document or Web page into an audio book or voice.