MP3 Tag Editor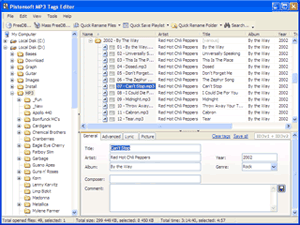 Show more testimonials...
"Just a quick note to say what a great piece of software
MP3 Tag Editor
is: simple to use, powerful and so much better than the competition. Great value, thanks!"
Colin
"Your
MP3 Tag Editor
was very good. I have no complaints about the product, nice job."
Retro
Pistonsoft MP3 Tags Editor
is an audio file tags organizer. It helps you organize large music collections. With MP3 Tags Editor, you can edit music tags, rename audio files, folders, export data to various formats, save music playlists and more.
Thanks to our worksheets technology, you can edit audio tags directly in the list cells. This makes the MP3, OGG or WMA tag editing process similar to editing spreadsheets. Also, you can use the separate Tags edit form for group tag editing of selected files. You can easily attach pictures to the MP3 or WMA file. The pictures will be saved inside your audio file as embedded cover art.
Pistonsoft MP3 Tags Editor
is an audio files Tag editor with batch mode. You can get audio tag information for your MP3 album from the FreeDB online music database. Our smart tag processor will automatically single out album audio tracks from the list and receive a list of suitable albums according to the number and length of the tracks. And you need only select one album, and our tag program will fill in the audio tags with the received album information.
With
Pistonsoft MP3 Tags Editor
recursive subfolders support, you can change any tag field in all included subfolders. For example, you can rename the Artist field in a large audio collection in one click... no matter how many subfolders are in this music folder.
Pistonsoft MP3 Tags Editor
allows you to organize your music collection directly from within the software. Using Pistonsoft MP3 Tags Editor, you can copy, move, delete and rename files and folders. The selected MP3, OGG or WMA files can be renamed and exported in a playlist with one click according to your template. You can easily generate new and understandable filenames for your audio files using the Rename Files function.
Pistonsoft MP3 Tags Editor
has a flexible customizable interface making it possible to meet all your requirements. You can customize the most of the program interface items: menus, toolbars, the size and order of columns in the list, the place of the tag editor, etc. Put your favorite audio collection in order easily!
Features
:
Easy editing MP3 tags (ID3v1 and ID3v2);
Easy editing OGG (Vorbis) tags;
Easy editing WMA metadata tags;
Easy editing ASF tags;
Full ID3 tags version 1 and version 2 support;
ID3v1 with Lyrics3 supported;
Save pictures inside MP3 tag and WMA tag;
Editing included lyrics and pictures;
Editing tags directly in the list cells;
Simultaneously change one or more metadata tag fields for several audio files;
Tag based audio filename generator;
Getting tags information from the FreeDB and automatic generate audio tag;
Getting tags information from the FreeDB online database for audio discs;
Recursive folder processing, editing tags for entire folders and their subfolders;
Showing additional info about music file: track duration, bitrate and file size;
Easy copying the audio tag into the clipboard;
Easy renaming files and folders by template;
Unique feature for advanced files search with tags parameters;
Automatic generating M3U playlists by template;
Displaying subfolders in the list;
Auto track numbers filling;
Drag and Drop interface;
Easy music files and folders deleting;
Always monitoring changes in the active folder;
Controlling and playing music files in Winamp audio player;
Flexible and customizable user interface;
WMA Tag, OGG Tag, ASF Tag, ID3 Tag, MP3 Tag Editor;
WMA, OGG, ASF, Music, MP3 Renamer;
WMA, OGG, ASF, MP3 Manager;
WMA, OGG, ASF, Audio Tag, Media, Music, MP3 Organizer;
Updating our audio software via the Internet easily.
We hope you enjoy all the features we've made in our
MP3 Tag Editor
.
---
If you want to split MP3 or WAV files into parts, use Direct WAV MP3 Splitter.
If you want to join multiple MP3 files, use Direct MP3 Joiner.
To convert audio files between various audio formats and rip CD audio tracks directly to MP3, WMA, WAV, OGG, FLAC, Monkey's Audio APE or MusePack MPC, use Direct Audio Converter and CD Ripper.
If you want to quickly convert MIDI to MP3, please use Direct MIDI to MP3 Converter.
MP3 Audio Recorder - Record high-quality music or low-bitrate audio streams directly into compressed sound files.
Pistonsoft MP3 Tags Editor is a powerful audio tagger to edit MP3, OGG, ASF and WMA tags of audio files. MP3 Tag Editor also allows you to create playlists, rename files, organize folders, export data to different formats, and more.
Freeware BPM Detector - Count Song's Beats per Minute Automatically.
Text to Speech Converter - Convert any text, document or Web page into an audio book or voice.