Choir Practice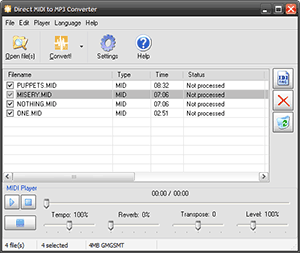 Show more testimonials...
"I have tried many MIDI to MP3 compose individual choral melodies for our church choir and need to convert these to MP3.
Direct Midi to MP3 Converter
does this fast and effectively. The
batch conversion
facility is excellent and the quality of the finished MP3 is first class. I haven't found a better converter than this one."
Steven McGuire
"
Direct MIDI to MP3 Converter
an excellent program. Easy to use with an intuitive user interface. Conversion of files is rapid with the resultant mp3 being of a good size and quality. I needed to play the national anthems of several countries at a sports tournament. The anthems were only available in the .mid format while mp3 format was required. The converter allowed me to meet the required commitment I had made to getting the files ready and on time."
Kibaazi
"I have been looking for a MIDI to MP3 for months. I tried two other products and found them very confusing and not living up to my expectations. I can honestly say that your
MIDI to MP3 Converter
not only meets but far exceeds my expectations! I have finally been able to move 7 MIDI files to MP3 for my Granddaughter's player. She thinks Grandpa can do anything! :) Thanks for a great product."
Nevins A. Franke
"Kindly help us to
convert the files
as we are planning to sing the songs with the track played in the background."
Jounitap
My name is Yew-Weng, Fong. I am serving as a deacon in Jalan Tiga Gospel Hall, a Chinese speaking small church in Malaysia of about 80 people (including visitors), and the majority are not able to
read music manuscripts
. As with many other churches, this poses a problem when coming to
choir practicing
. People are reluctant to join the choir as they find difficulty in coping up. The tape recording method was used all this while, but as technology advances tape recorders are facing out as well.
Recently, one brother came up with a brilliant idea. He recorded the songs into 4 different part (SATB) through his midi device (or whatever you called it), into disk and ask the choir members to listen at home in their convenience so as to get familiar with their own parts. The problem is they have to
play it in a computer
. This creates another problem. There are some who do not know how to operate the computer, especially the more senior folks. Secondly, even those who are familiar with a computer have to "stick" around the computer all the time to "practice at their convenience". This is not practical.
In our discussion on resolving this obstacle, someone noted that there is a tool that can c
onvert midi file format to Mp3 format
, and suggested we try the method since mp3 players are becoming popular nowadays. I thank the Lord, I happen to bump into your website which provided us an opportunity to try out. After trying the
Direct MIDI to MP3 Converter
I find it easy to use, though it took me some time to get it right and to learn the basics and I am sure there will be much to learn from your midi program, it has met our immediate need. Last night I brought the music, (now
converted from midi to mp3 format
) to our choir practice and all are very happy with it, and the choir leader have this to said after our practicing, "Now, there is no excuse for not joining the choir!"
Not only that, the converted accompanying music can help in other ministries as well, like cell-group and home meetings where singing is require but no piano, musical instruments or musician available. Wonderful indeed.
I really appreciate your kind and gracious generosity for sharing this service. May the Lord bless you abundantly with His goodness.
Thank you so much.
In His Service, YW Fong
---
DOWNLOAD FREE TRIAL!
---
If you want
get discount
or
free copy
of the
Direct MIDI to MP3 Converter
for your church please
contact us
---
If you want to split MP3 or WAV files into parts, use Direct WAV MP3 Splitter.
If you want to join multiple MP3 files, use Direct MP3 Joiner.
To convert audio files between various audio formats and rip CD audio tracks directly to MP3, WMA, WAV, OGG, FLAC, Monkey's Audio APE or MusePack MPC, use Direct Audio Converter and CD Ripper.
If you want to quickly convert MIDI to MP3, please use Direct MIDI to MP3 Converter.
MP3 Audio Recorder - Record high-quality music or low-bitrate audio streams directly into compressed sound files.
Pistonsoft MP3 Tags Editor is a powerful audio tagger to edit MP3, OGG, ASF and WMA tags of audio files. MP3 Tag Editor also allows you to create playlists, rename files, organize folders, export data to different formats, and more.
Freeware BPM Detector - Count Song's Beats per Minute Automatically.
Text to Speech Converter - Convert any text, document or Web page into an audio book or voice.