MP3 Audio Recorder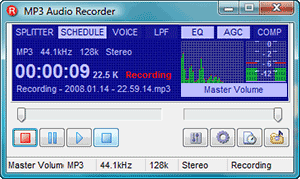 Show more testimonials...
"I love it! It's great! Definitely the easiest
MP3 recording software
I've ever used. Can't find something better."
Brennan
"Thank you very much for this prompt attention. Tested many MP3 recorders and yours was the best!"
Alan
"Definitely the
best audio recorder
I ever used. Superb simplicity and excellent output, yet to be beaten. Thank you for creating this magnificent tool."
Brice Louge
"I'll do the upgrade. I'm a big fan of your software. I like the mp3 audio recorder because it's not complicated for this 60 year old, and allows me to easily record audio off youtube and put it on my walkman, for learning songs. Im a musician playing both classical and pop, and i use the recorder all the time. Feel free to use this as a user comment."
Jim Parfitt, USA
"More accolades for the audio recorder. When I'm ready to pull my hair out from dealing with windows media player; trying to get a tune from a CD in the drive, through all the garbage of the media player, to my mp3 walkman, I realize that I can just pop the CD in and hit the record button on the audio recorder, and presto! I have an mp3 file that I can move easily around. It's simple and useful."
Steve Burch, Seattle, USA
Record high-quality music or low-bitrate audio streams directly into compressed sound files
Pistonsoft
MP3 Audio Recorder
records audio and saves it directly into any format without additional compression or conversion. All bitrates of MP3, WMA, WAV and OGG formats are natively supported.
Record MP3 Files Directly from any Sound Sources
Create audio presentations or narrations,
make Web podcasts
,
record Web radio
stations or class lectures or tape voice memos easily and conveniently.
Record audio from microphone
, CD/DVD player, games, radio, TV etc. There are many unique requirements to the format, quality and size of audio files for different purposes.
Make Streamable Audio
Web podcasts are played back over the Internet connections. If you are into podcasts, you already know the rules: tight bandwidth, streamable audio, legible voice quality. Sure you can use Windows
Sound Recorder
to record a 60-second WAV file, then convert it into a format of your choice; but why bother?
Pistonsoft MP3 Audio Recorder
will record your voice into a streamable audio file with just a few mouse clicks! With a bit of tweaking you'll get perfectly legible, crystal-clear voice that takes minimum bandwidth.
Turn Your Laptop into a Portable Recorder
Audio presentations don't need to be streamed, but quality requirements are much higher for a successful presentation. Record your audio presentation into a high-bitrate format such as MP3 or OGG to preserve audio quality, or use lossless compression if you need further editing. You can
create your own an audio book
!
Digitize Your Vinyl, LP and Cassette Tape Collection
Do you have a lot of old vinyl records and cassette tapes? Digitize your entire collection of old vinyl LP and cassette tapes easily with
Pistonsoft MP3 Audio Recorder
and get the highest quality automatically! Thanks to the LPF (Lowpass) filter and built-in parametric equalizer, you'll be able to fine-tune your records for the highest quality and get clear, vibrant sound without any humming or clicking noises.
Convert your analog LP
records to MP3 easily!
Making voice memos or recording class notes? Using your laptop as a portable tape recorder can make for a great Dictaphone, but it's pretty much useless if used in difficult recording conditions such as a university auditory. Unless, of course, you are armed with proper software! Pistonsoft MP3 Audio Recorder turns your laptop into a powerful digital recorder with tons of features you simply can't buy in a dedicated device. Built-in Automatic Gain Control (Dynamic Amplification) compensates for varying sound levels, and numerous filters and audio enhancers produce crystal-clear and perfectly legible voice.
How Not to Miss Your Favourite Radio Show
You can leave your laptop unattended in a conference room and set it to record on a schedule or set the Voice Activation System (Silence and Pause Detection) to start recording automatically when the system detects a sound. Also you can monitor and record online conferences and discussions. You can record sound at a specific day and time. The schedule recordings can happen only once or every day or on a fixed date. You never miss your favourite radio show!
Don't have plenty of patience to listen through all the pauses? Save your time and disk space with Pistonsoft MP3 Audio Recorder! Its built-in Voice Activation System gets rid of pauses and silence by only recording when someone is talking. The Sound Recorder will just pause and wait for the audio signal. You can record any sound and skip silence. Tired of managing gigantic audio files? You'll never end up with a huge, difficult to deal with audio file thanks to the automatic splitter. Your recording will be split into separate audio files when the current file reaches your pre-set size limit.
Pistonsoft MP3 Audio Recorder is easy to use and activates with a single click. Assign your own shortcuts and control the recording regardless of what application is currently active. Turn your desktop computer into a sound recording studio, and make your laptop a powerful voice recording machine with Pistonsoft MP3 Audio Recorder!
---
If you want to split MP3 or WAV files into parts, use Direct WAV MP3 Splitter.
If you want to join multiple MP3 files, use Direct MP3 Joiner.
To convert audio files between various audio formats and rip CD audio tracks directly to MP3, WMA, WAV, OGG, FLAC, Monkey's Audio APE or MusePack MPC, use Direct Audio Converter and CD Ripper.
If you want to quickly convert MIDI to MP3, please use Direct MIDI to MP3 Converter.
MP3 Audio Recorder - Record high-quality music or low-bitrate audio streams directly into compressed sound files.
Pistonsoft MP3 Tags Editor is a powerful audio tagger to edit MP3, OGG, ASF and WMA tags of audio files. MP3 Tag Editor also allows you to create playlists, rename files, organize folders, export data to different formats, and more.
Freeware BPM Detector - Count Song's Beats per Minute Automatically.
Text to Speech Converter - Convert any text, document or Web page into an audio book or voice.