MIDI Converter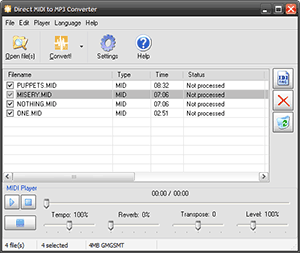 Show more testimonials...
"The
Direct MIDI to MP3 Converter
worked very well for me. I was very desperate to find a MIDI converter to use for my 8 year old son's contest piece for use the very next day. I had nowhere else to go. Other converters only convert up to a limited time. (Mostly , only 60 seconds.) Direct MIDI to MP3 converted the MIDI completely and it gave my son a fair chance for his singing contest. Thank you very much!"
Mitch Dumlao
"I use a digital piano to create MIDI files. I then use your Direct MIDI to MP3 Converter software to convert to MP3 format. Works nicely, by the way."
Andreas
"Top Conversion software. I have tried many midi converters but this would be the best and most easy MIDI Converter thet I have found to convert Midi Files to MP3. They work fine and it is so easy."
Ken
"It is an excellent program. Easy to use with an intuitive user interface. Conversion of files is rapid with the resultant mp3 being of a good size and quality. I'm a singer, and my husbands plays keyboard to make the mid files, wich we need to study. The Direct MIDI to MP3 Converter was the only program with what I could adjust the correct music tons and convert them to mp3 files, with an excelent quality."
Maris
"This program seriously rocks! I am very glad i tried the trial. If i ever need a conversion app, i will use this one. The interface is very nice and this is much better than i thought it would be."
Cameron McCormick
Why would anyone want to convert a MIDI file into an MP3? MP3 files take more space on a disk or in your phone, and, unlike MIDI, cannot be tweaked or edited by a music box. So why would you want an MP3 file instead of MIDI?
The answer is consistency and audio quality. MIDI files sound differently depending on which device you use to play them back. MIDI ringtones for mobile phones are fun and compact, and may sound reasonably well with polyphonic phones. But can you really compare the sound with that produced by a music studio on a powerful desktop PC with computational resources that are practically unlimited compared to mobile phones?
Once you convert a MIDI file into an MP3, the tune will sound exactly the same way no matter what device you use to play it back. Polyphony or not, MP3s will play on most modern cell phones with great quality. Do you need more reasons to convert?
A new MIDI converter, Direct MIDI to MP3 Converter by PistonSoft, takes care of every possible aspect of converting MIDI files into MP3. Unlike competitors, PistonSoft MIDI converter produces MP3 output ten times faster than a MIDI file plays back! The new MIDI converter produces high-quality output by employing digital wavetable synthesis instead of simple FM synthesis used in most modern mobile phones. Wavetable synthesis works by playing back your MIDI files with sounds of pre-recorded samples of various music instruments to produce the most realistic sound quality. Still doubtful? Just upload the same tune into your cell phone in MIDI and MP3 formats, and compare the sound!
The newest edition of the MIDI converter features new enhanced sound font, producing even more convincing sound out of any MIDI file. Direct MIDI to MP3 Converter is available in multiple languages, and allows recording audio CDs directly with MIDI files. The MIDI converter is widely recognized by MIDI piano teachers training choruses, and is popular in churches where it plays back music without any musical instruments or musicians.
What are you waiting for? Direct MIDI to MP3 Converter is fast, popular, and provides great sound quality! Download your MIDI converter now!
---
If you want to split MP3 or WAV files into parts, use Direct WAV MP3 Splitter.
If you want to join multiple MP3 files, use Direct MP3 Joiner.
To convert audio files between various audio formats and rip CD audio tracks directly to MP3, WMA, WAV, OGG, FLAC, Monkey's Audio APE or MusePack MPC, use Direct Audio Converter and CD Ripper.
If you want to quickly convert MIDI to MP3, please use Direct MIDI to MP3 Converter.
MP3 Audio Recorder - Record high-quality music or low-bitrate audio streams directly into compressed sound files.
Pistonsoft MP3 Tags Editor is a powerful audio tagger to edit MP3, OGG, ASF and WMA tags of audio files. MP3 Tag Editor also allows you to create playlists, rename files, organize folders, export data to different formats, and more.
Freeware BPM Detector - Count Song's Beats per Minute Automatically.
Text to Speech Converter - Convert any text, document or Web page into an audio book or voice.