Direct MP3 Joiner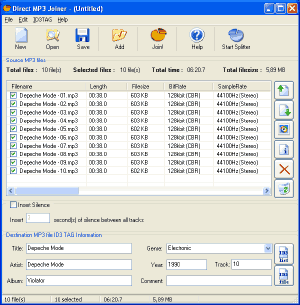 Show more testimonials...
"I would like to express my extreme satisfaction with the
Direct MP3 Joiner
utility. It is absolutely perfect for my audio toolbox. I downloaded the free demo and bought the license after 5 minutes of use. Thank you!"
Jim Bower
"Googled looking for a way to join all the mp3 files on my books' cd's into one for playing on my creative zen. I check out books on cd from my library. I listen to them on my Creative Zen while I walk or work out. I rip them but then get 10 chapters each with 20 mp3s. It's quickly out of control.
Direct MP3 Joiner
totally, easily, quickly fixes the problem beautifully."
Susan Dennis
"Tried another
MP3 Joiners
this one just rocks no waiting time just great!"
Rob
"Just wanted to say thank you for developing this absolutely wonderful program
Direct MP3 Joiner
which I just purchased. The seamless knitting of file without ID3 tags is perfect for what I do. I was using another mp3 joiner, but it didn't support some sampling rates. This app doesn't care about bit or sampling rate. A most excellent feature. And my god it is fast!"
Ron Pappas
"
Direct MP3 Joiner
- Nice product. I had been using a freeware MP3 Joiner package (in German!) but it does not work as well as this one."
Phil Twomey
Direct MP3 Joiner is an easy and fast audio tool to combine MP3s, as well as merge or join MP3 files. With Direct MP3 Joiner, you can join multiple music MP3 files into a larger MP3 file in a split second. You can merge, combine and join MP3 audio files with blazing speed, without recompressing and without quality loss. Our MP3 Joiner works with audio files directly and the joined MP3 song will be ready almost instantly. With our MP3 Merger, you can join your separate audiobook chapters into one big audiobook or combine multiple music tracks into one non-stop audio CD.
Direct MP3 Joiner has an incredible feature that allows you to insert silence between the audio MP3 tracks to be merged. You also have several simple ways to adjust the sequence of the MP3 files to be combined using quick sort buttons and sorting by columns (song time length, file length, bitrate, and the MP3 tag fields Artist, Title, Track #, etc.)
If you like listening to audio books, this MP3 joiner is perfect for you. It's incredibly easy to operate even if you don't know a thing about audio files, indexing or MP3 tags. An internal MP3 player and Batch MP3 Joiner mode are already included.
With our powerful sorting algorithm you can sort your MP3 files in the right order, every time. When sorting a list of MP3 files from 1 to 12, a regular alphanumeric sort will order the numbers as 1, 10, 11, 12, 2, 3...9. We, as well as our users, won't stand for this, and the newest MP3 Joiner Sort Algorithm will sort your MP3 files correctly.
We have tried to make our Direct MP3 Joiner as simple as possible.
Features
:
Fast MP3 Joiner without recompression;
Powerful Natural Sort Algorithm;
Full MP3 tag (ID3 version 1 and 2) support;
Supports MP3 files with artwork (album cover) in the ID3 tag;
MP3 Joiner allows reviewing MP3 ID3 tag information - Screenshot;
Easy manual editing of ID3 tag information for the MP3 files that are created - Screenshot;
VBR (Variable Bitrate) MP3 support;
Easy MP3 track sequence adjustment - Screenshot;
Sorting by any column (such as by Title, by Length, by Track, etc.) - Screenshot;
Adjust the order of the MP3 files to be merged - Screenshot;
You can copy the MP3 ID3 tag information directly from any of the MP3 files in the join list or from any of the MP3 files on disk;
You can save and load an MP3 file list and project file - Screenshot;
Fast MP3 merging;
Internal MP3 audio player;
Batch MP3 Joiner process;
Insert silence between merged MP3 audio files - Screenshot;
Drag and Drop interface.
---
If you want to split MP3 or WAV files into parts, use Direct WAV MP3 Splitter.
If you want to join multiple MP3 files, use Direct MP3 Joiner.
To convert audio files between various audio formats and rip CD audio tracks directly to MP3, WMA, WAV, OGG, FLAC, Monkey's Audio APE or MusePack MPC, use Direct Audio Converter and CD Ripper.
If you want to quickly convert MIDI to MP3, please use Direct MIDI to MP3 Converter.
MP3 Audio Recorder - Record high-quality music or low-bitrate audio streams directly into compressed sound files.
Pistonsoft MP3 Tags Editor is a powerful audio tagger to edit MP3, OGG, ASF and WMA tags of audio files. MP3 Tag Editor also allows you to create playlists, rename files, organize folders, export data to different formats, and more.
Freeware BPM Detector - Count Song's Beats per Minute Automatically.
Text to Speech Converter - Convert any text, document or Web page into an audio book or voice.