MIDI Conversion Software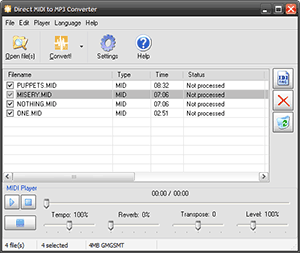 Show more testimonials...
"Yes, I am here to complement on your current product, the
Direct MIDI to MP3 Converter
. I have never found a product that could give me
proffesional sound quality
or good play back for MIDI conversion. The ability to use any
SF2 Soundfont
, set a reverb, and get a MIDI into a MP3 in good time are what I like about this product. I also like the fact that you can edit the tags of the files so that you can make it easier on yourself rather than having to deal with the dreaded Microsoft Media Player's tag editors. You guys should really go out and make a easy to use MIDI creator software sequencer so that you don't have to deal with fumbling generators. I just think this product is worth it."
Dabest
"I was looking for a quick and easy
MIDI to MP3 or WAV converter
program, used
Google
and found this software at the top of the list! It was a quick download, and super easy to use. Best of all it and
spyware free
!!! I would highly recommend this program."
Tima
"Before this, I'm using anothers products to convert our Church songs to share using Mp3 type cd's. But this
Direct MIDI to MP3 Converter
let me choose the right quality the best I ever heard. It's a high quality converter, Thanks for the software..."
Papuruka
"I have been looking for a MIDI to MP3 for months. I tried two other products and found them very confusing and not living up to my expectations. I can honestly say that your
MIDI to MP3 Converter
not only meets but far exceeds my expectations! I have finally been able to move 7 MIDI files to MP3 for my Granddaughter's player. She thinks Grandpa can do anything! :) Thanks for a great product."
Nevins A. Franke
"Having just bought a new cell phone which had MP3 capabilities, I was now faced with how to convert my existing
MIDI collection to MP3
. I went searching for a trial version of some "no fuss, full working" software, and my first test would be against a few harpsicord collections. A
Google
search brought me to your site and after further research, decided to give it a whirl. Your
Direct MIDI to MP3 Converter
worked like a charm (and so did the cell phone). Both the install, ease of use, and full working trial were very welcome. I am now happily look forward to converting more of my MIDI collection to listen on my MP3 player."
Gene
I'm just your average guy who went looking for an easy-to-use
MIDI conversion software
because I had a few MIDIs to convert. I had tried Blaze Media Pro initially, but the trial was only 15 days and I couldn't do anything useful with it, because I couldn't find out where the
MIDI conversion
step was. I was also planning to start making music for a dance game I had.
Then, I came across this site. Although the software was a 30-day trial, and I'm used to open-source software, I decided to give it a try. I downloaded it, and it installed in a matter of seconds. I made a test file to start, and the conversion came out very nicely. It actually came out
better than the playback
function on my sequencer, which is extraordinary.
This
midi software
is very good and easy to use, and it outputted my test file in a matter of seconds, just like it installed. It can also convert to 4 formats, which is also a plus. Too bad it isn't free... If it were, I'd recommend it to any of my friends, not just the ones who have access to a credit card.
I'm planning to make my first original MIDI song sometime in the next few months, and when I do, I'll be using this utility to test it out. I'll also be using it to test out anything else of a MIDI origin that I make.
Now for a feature review:
Cost: $29.95 (+4)
Output formats: MP3 (+5), WMA (+3), OGG (+5), WAV (+7)
Output speed: 3.7/51 seconds (+13)
Other functions:
- Tempo change, from -100% to 300% (+4),
- Reverb (+1),
- Transposition (+2),
- Volume leveling(+4),
- Player (+5),
- ID3 Tag Editor (+2)
Total score: +55
You'll notice that I just made these things up on the spot.
However,
+55 is already very good
!
In conclusion, this
software is very good
. That's all I have to say.
Superobotz D.E.
---
DOWNLOAD FREE TRIAL!
---
Direct MIDI to WAV/MP3 Converter's main features:
Quick and fast midi rendering engine - up to 10 times faster than the original midi file time;
Audio CD quality because of internal fast conversion without recording;
SF2 Soundfont support;
Adjustable reverb control;
Adjustable Midi tempo;
Fast batch conversion mode that saves your time;
Most popular MIDI formats are supported;
Adjustable qualities and bitrates;
High quality built-in MIDI player with trackbar;
Fully featured OGG/WMA/MP3 Tag editor;
Full support of ID3 MP3 tags;
Full support of WMA tags;
Full support of OGG tags;
Multilingual interface;
Hot keys for all operations;
An easy-to-use Drag and Drop interface;
Recording Level adjustment;
Ability to Minimize program during midi conversion;
Transpose MIDI feature, you can change key;
All available directions:
MIDI to MP3, MIDI to WAV, MIDI to WMA, MIDI to OGG, MIDI to WAVE,
MID to MP3, MID to WAV, MID to WMA, MID to OGG, MID to WAVE,
RMI to MP3, RMI to WAV, RMI to WMA, RMI to OGG, RMI to WAVE,
KAR to MP3, KAR to WAV, KAR to WMA, KAR to OGG, KAR to WAVE;
Windows Vista compatible.
We hope you enjoy all the features we've made in fast Direct MIDI to MP3 Converter.
---
If you want to split MP3 or WAV files into parts, use Direct WAV MP3 Splitter.
If you want to join multiple MP3 files, use Direct MP3 Joiner.
To convert audio files between various audio formats and rip CD audio tracks directly to MP3, WMA, WAV, OGG, FLAC, Monkey's Audio APE or MusePack MPC, use Direct Audio Converter and CD Ripper.
If you want to quickly convert MIDI to MP3, please use Direct MIDI to MP3 Converter.
MP3 Audio Recorder - Record high-quality music or low-bitrate audio streams directly into compressed sound files.
Pistonsoft MP3 Tags Editor is a powerful audio tagger to edit MP3, OGG, ASF and WMA tags of audio files. MP3 Tag Editor also allows you to create playlists, rename files, organize folders, export data to different formats, and more.
Freeware BPM Detector - Count Song's Beats per Minute Automatically.
Text to Speech Converter - Convert any text, document or Web page into an audio book or voice.