Skype Recorder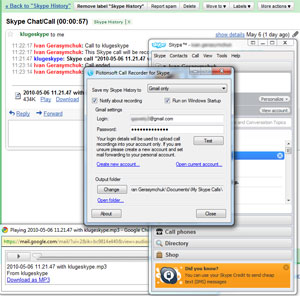 Show more testimonials...
"Absolutely loved your
skype call recorder
! Have tried a bunch of other applications and they did not work - this software does the job and quickly!"
Quang
"I just wanted to say thank you for creating such a useful
skypee recorder
! Thank you my friend!"
Sincerely, Michael
Record your Skype calls and save it to Gmail automatically
With so many important calls being made through Skype these days, the ability to save conversations to your computer appears absolutely essential. Discussions of design or engineering concepts, opinions voiced during multi-user conference calls, project-related agreements, terms and a whole lot of other topics and things often expressed in voice should better be saved to a reliable archive, so that you can always find the necessary file and use it in an argument.
Unfortunately, Skype does not support voice recording "out of the box" and there are no plans to implement this feature in any form in the nearest feature. And that's exactly where Skype Recorder comes into play!
Unlike its competitors,
Pistonsoft Skype Recorder
allows you to
record Skype calls and save recorded conversations
both locally and in your
Google Mail account
. In both cases, audio logs are saved as compact high-quality MP3 files. When saving conversations to your Gmail account, the program labels them as "Skype History", so you can quickly select these messages from the entire message archive.
The use of a remote storage saves space on your hard drive and is 100% safe - the program establishes a secure connection with Gmail to submit every Skype history item. Having your Skype chat history files online enables you to access your audio Skype history journal from anywhere in the world in the 24/7 mode. You can also use a single Gmail account to serve as a storage container for multiple instances of
Skype Voice Recorder
and filter/forward incoming messages further. As an example, you can use the program to monitor your children's or employees' online chats and automatically receive complete voice logs to your inbox.
This compact Skype call recorder offers the following useful features
Possibility to record Skype calls;
Possibility to save Skype history locally and to your Gmail account as MP3 files;
Secure transmission of your Skype history items to Google Mail via secure SSL connection;
Automating labeling of Skype chat history entries in your inbox.
Note that the current version of
Skype Voice Recorder
requires users to enter their Gmail login details. This is only required once and this information is only used by the program for submitting new messages, so the connection is not opened all the time. For extra security, you can always create a new Gmail inbox and use it as a forwarder only.
Pistonsoft Skype Recorder
does not have any special requirements besides Microsoft .NET Framework 2.0 and the
IMAP protocol being enabled in Gmail
settings.
---
If you want to split MP3 or WAV files into parts, use Direct WAV MP3 Splitter.
If you want to join multiple MP3 files, use Direct MP3 Joiner.
To convert audio files between various audio formats and rip CD audio tracks directly to MP3, WMA, WAV, OGG, FLAC, Monkey's Audio APE or MusePack MPC, use Direct Audio Converter and CD Ripper.
If you want to quickly convert MIDI to MP3, please use Direct MIDI to MP3 Converter.
MP3 Audio Recorder - Record high-quality music or low-bitrate audio streams directly into compressed sound files.
Pistonsoft MP3 Tags Editor is a powerful audio tagger to edit MP3, OGG, ASF and WMA tags of audio files. MP3 Tag Editor also allows you to create playlists, rename files, organize folders, export data to different formats, and more.
Freeware BPM Detector - Count Song's Beats per Minute Automatically.
Text to Speech Converter - Convert any text, document or Web page into an audio book or voice.