Multi Room Music System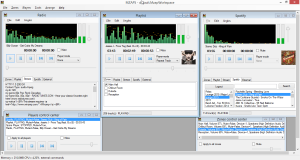 Show more testimonials...
"By the way, I love it so far! We just ordered new speakers for use with the software, and will be running an 8 zone system for the haunted house. Everything has been pretty straight forward!"
Russ Moore, Tayman Graveyard
"Respected, one of our clients (hotel) is using your software version 1.6, and we have interest to purchase latest version."
Frano Hartman
"Your product looks like a perfect multi room software solution!"
Rocco Spagnolo
Control sound in different places
Multi Room Music System
is a centralized audio software solution for hotels, shops, clubs, gyms, zoo, theme parks, sport centers, stadiums and more. Using a Multi Room Sound System on one computer with ordinary soundcard you can play different music to different places. For example with one ordinary 5.1 audio card
Multi Room Music System
software helps you create up to 6 different audio zones.
A convenient
Player Control Center
helps you manage all music rooms from one place. Each zone has an eq and own playlist or internet radio stream. You can play PLS and M3U playlist, MP3, AAC, M4A, WAV, WMA, OGG, APE, FLAC audio files as well as almost all kind of internet radio streams.
Multi Room Music System
supports up to 4 separate sound devices. If you install four ordinary 7.1 sound devices on your computer you will get 32 mono channels or 16 separate stereo zones. Multi Room Sound System contain flexible automatic
Playlist Creator
with templates support and own
Music Library Database
that helps you manage your big audio collection and generate new playlists. Our
Multi Room Sound System
is a low cost audio solution for your business!
Features
:
Control and manage up to 32 audio zones from one computer;
Support wide range of regular (even built-in) audio cards;
Control and manage up to 32 audio zones from one computer;
MP3, AAC, M4A, WAV, WMA, OGG, FLAC, APE files playback;
M3U, PLS playlists playback;
Remote Network Control with user management;
Job scheduler;
Internet audio streams support;
SPotify music service support;
Command line control interface for batch files;
WCF and REST API;
Internal Music Database for fast music search;
Playlist Creator;
Advertisement and Jingles support;
Equalizer for each zone;
Microphone support;
Line-in input support;
Multi window and multilingual user interface.
Planned for the future
:
native iPhone, iPad, Android, Windows Phone 7 applications for remote control;
ASIO sound devices support;
Sound normalization;