Free BPM Detector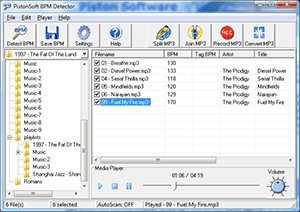 Show more testimonials...
"I have a huge collection mp3's and own your zortam pro package. I downloaded the
BPM detector
software, and It works good."
DJ Stingray
"I have a huge collection mp3's and own your zortam pro package. I downloaded the
BPM detector
software, and It works good."
Jay, The Netherlands
"I tried your
BPM detector
and it's an awesome program! Simple, fast and calculates the correct BPM! I used MixMeister BPM Analyzer before. But I calculates not the correct values and takes a lot more time than the BPM Detector."
Maxim Winbah
"Your BPM detector is great yet free tool, thank you so much for creatig it!"
Robert Keating
Count Song's Beats per Minute Automatically
Are you a DJ, a professional sound engineer, or just making sound tracks at home sound recording studio? Making the rhythms or create a harmonious music sequence? Make your task easier by instantly seeing the tune's number of
beats per minute
(BPM)!
A talented DJ knows the tune's rhythm intuitively, but even the most experienced professional cannot know everything. There are gazillions of songs by various artists and in numerous styles, and there are thousands of new tunes released every month. It's simply not possible for a human being to keep all of them in one's mind!
But what if you have a plan? What if you need a slow melody followed by a passionate dance followed by an energetic rhythm followed by: you get the idea. Want to play it safe and put the same shabby songs all over again, or take the risk and bring a bit of fresh air with new tunes?
Make Your PC A Perfect DJ Companion
There's no risk to ruin your master plan if you use
Pistonsoft BPM Detector
! This
free audio tool
scans your entire collection of songs and detects the number of beats per minute, which gives an idea of how calm or how energetic the tune is.
Pistonsoft BPM Analyzer
can display the numbers right away in its convenient browser-style interface, but most prefer this information saved as a tune's meta-tag. You'll end up having all of your MP3s with ID3v2 tags that contain BPM numbers - easy to access and show by your favorite jukebox!
Are you a sound engineer or an SFX producer? Pistonsoft BPM Detector
detects the BPM rate
of any audio sample just as easily as it deals with MP3 songs. If you just need a few seconds of every sample, Pistonsoft BPM Detector can be easily set to only scan that many seconds.
Have a big music collection? No problem!
Pistonsoft BPM Detector
is fast, and scans hundreds of files per minute on an average PC. Have a HUGE collection? Fear not! Configure BPM Analyzer to only scan the first few seconds of every song, and still BPM your collection in no time!
No more need to listen through every tune or sound file with a stopwatch. Save your time and efforts for creativity. Unleash the power of your PC and make it a perfect DJ companion. Make better sound effects and balanced tracks with free Pistonsoft BPM Detector.
Download your free copy now!
Features
:
Absolutely FREE;
Automatic BPM scan mode for folders surfing;
Can save BPM to ID3v2 MP3 tag;
Options for Scan first few seconds only;
Hot keys for all operations;
An easy-to-use interface;
Windows Vista compatible.
We hope you enjoy all the features we've made in our Pistonsoft BPM Detector.
---
If you want to split MP3 or WAV files into parts, use Direct WAV MP3 Splitter.
If you want to join multiple MP3 files, use Direct MP3 Joiner.
To convert audio files between various audio formats and rip CD audio tracks directly to MP3, WMA, WAV, OGG, FLAC, Monkey's Audio APE or MusePack MPC, use Direct Audio Converter and CD Ripper.
If you want to quickly convert MIDI to MP3, please use Direct MIDI to MP3 Converter.
MP3 Audio Recorder - Record high-quality music or low-bitrate audio streams directly into compressed sound files.
Pistonsoft MP3 Tags Editor is a powerful audio tagger to edit MP3, OGG, ASF and WMA tags of audio files. MP3 Tag Editor also allows you to create playlists, rename files, organize folders, export data to different formats, and more.
Freeware BPM Detector - Count Song's Beats per Minute Automatically.
Text to Speech Converter - Convert any text, document or Web page into an audio book or voice.