Text to Speech Converter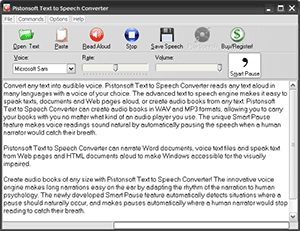 Please download additional multiple languages and different choices of voices from
Cepstral web site
Requirements: Windows XP, 7 (Windows 8 and higher are not supported)
Create Your Own Audio Books
Convert any text, document or Web page into an audio book - no matter how long the original is! Pistonsoft Text to Speech Converter speaks any text aloud, and supports multiple languages and different choices of voices. The unique
Smart Pause
feature makes Pistonsoft Text to Speech Converter 'breathe' just like a human narrator, making long readings easy on the ear. Stop paying for audio books and start making them on your own!
Listen to Long Documents
Pistonsoft Text to Speech Converter makes it comfortable to work with long documents by narrating Microsoft Word (.DOC) documents, Web pages in .HTML format and plain text (.TXT) and PDF files, making long reads available and Windows more accessible for the visually impaired. And few popular ectronic books formats like ePub, PDB and FB2 supported.
Pistonsoft Text to Speech Converter
supports texts and documents of any size, and can produce uninterrupted audio of any length. Select text in any application and press hot key to read it aloud.
Bring Your Favorite Reading Along
Taking a long-haul flight or making regular trips? Take your favorite entertaining or educational reading with you! Pistonsoft
Text to Speech Converter produces audio books
in WAV and MP3 formats, allowing you to burn a CD for a car or upload several audio books into an MP3 player. Bring your favorite reading on the plane or to a walk, entertain yourself or learn another language while driving or jogging!
Study While On the Go
Stop wasting time while driving, walking or jogging! Pistonsoft Text to Speech Converter creates a perfect opportunity to learn with educational audio books. Learn foreign languages easily appending no extra time by converting language courses in one of the languages supported by Pistonsoft
Text to Voice Converter
. Or make it narrate any other course or non-fiction book. Burn a CD to listen in a car or simply upload the audio books you created into an MP3 player, and take the player with you on a walk!
Produce Audio Books That Are Easy On the Ear
Current text-to-speech technologies can barely handle short texts, let alone long audio books. Narrations produced by current text synthesis engines lack naturalness of the human narrator. As computers don't breathe, human listeners get disturbed by a suffocating feeling, expecting the speaker to breathe in, which never happens.
Pistonsoft Text to Speech Converter
teaches your computer how to breathe by implementing the Smart Pause feature. The innovative technology
makes long audio books
sound more natural by analyzing the text and making appropriate pauses to create the impression that the text is being narrated by a breathing human speaker.
You control the voice, speed and volume of your audio books. Pistonsoft Text to Speech Converter supports all SAPI 5 voices installed on your computer, and supports
additional voices
that can be downloaded from
Cepstral Web site
.
---
If you want to split MP3 or WAV files into parts, use Direct WAV MP3 Splitter.
If you want to join multiple MP3 files, use Direct MP3 Joiner.
To convert audio files between various audio formats and rip CD audio tracks directly to MP3, WMA, WAV, OGG, FLAC, Monkey's Audio APE or MusePack MPC, use Direct Audio Converter and CD Ripper.
If you want to quickly convert MIDI to MP3, please use Direct MIDI to MP3 Converter.
MP3 Audio Recorder - Record high-quality music or low-bitrate audio streams directly into compressed sound files.
Pistonsoft MP3 Tags Editor is a powerful audio tagger to edit MP3, OGG, ASF and WMA tags of audio files. MP3 Tag Editor also allows you to create playlists, rename files, organize folders, export data to different formats, and more.
Freeware BPM Detector - Count Song's Beats per Minute Automatically.
Text to Speech Converter - Convert any text, document or Web page into an audio book or voice.