Direct MIDI to WAV/MP3 Converter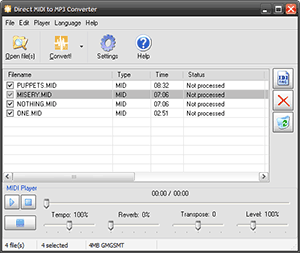 Show more testimonials...
"Thank you for
Direct MIDI to MP3 Converter
! You are the only company that I have found who has a FULL trial of your software, albeit for a limited time. You have saved my you-know-what as I have to perform a song tonight and I could not find any way to change the midi file that I needed into a format that I could play on a regular CD player. Your software is excellent, easy to use and I play on spreading the word about it to everyone that I know who does this sort of thing. Thank you again."
"
Direct MIDI to WAV/MP3 Converter
- a nice program, I put yours up against three others and it was best, hands down."
"It works good! Nice simple
Direct MIDI to MP3 Converter
, I am a MIDI artist but I wanted to put my works on an audio CD but my distributor only allowed MP3s so I converted them with this. Sometimes it can be too simple but not too much. It's not really good enough to pay for, but it's price is better than others I've seen. Lack in features, if they are open for suggestions I would say that you should be able to specify what the ID3 tag should be for ALL the files you convert. (Done!)"
"Now I succeeded in finding a converter program that pleases me very much. I had to try out at least ten programs. Nine of them relied on the playback and record functions in my sound-card, so they did not work! Number ten do not rely on a sound card at all, so it works! You don't have to fuss with recording levels and it even work faster! I've measured that it takes
less than 12.5%
of the playback time to convert a midi-file to a MP3-file. On top of it all you can choose the very
sound font
file (*.sf2) you want in the conversion."
Direct MIDI to MP3 Converter
: The Best Way to Convert a MIDI for MP3 player or Audio CD
Fast and Easy, Multifunctional MIDI to MP3, WAV, WMA, OGG Converting Tool
Pistonsoft today announces the release of Direct MIDI to MP3 Converter, version 6, a tool that makes the process of converting MIDI files to the much more functional MP3 format as well as to WAV, WMA and OGG formats as easy as a couple of mouse clicks. Direct MIDI to MP3 Converter will be the best choice for midi artists, amateur or professional musicians who compose MIDI music using digital pianos, keyboards or music sequencers and need a tool to convert their MIDI files to popular audio formats. The program is also perfect for anyone who wishes to record MIDI files to an Audio CD. All popular MIDI formats are supported including MIDI 0, MIDI 1, RIFF MIDI 0, RIFF MIDI 1 and Karaoke MIDI.
We often need to convert MIDI to WAV and MP3. The reason is simple - MIDI files can't be recorded on an Audio CD, as MIDI (Musical Instrument Digital Interface) format is a sequence of commands to control one or more pieces of musical hardware or software such as synthesizers or sequencers and these commands are not sounds but mere instructions to do something (mostly to generate sound). The usual way to transform music recorded in MIDI format to WAV format is to play MIDI files on an appropriate player and record reproduced music in a sound editor. But this method has several disadvantages - first, the quality of music will be determined by MIDI capabilities of your sound card, next, this two step process takes time, and, finally, as this method works at principal "Recording what is heard" it's very difficult to protect the output audio file from the foreign sounds, caused by the background music, effects or different noise being played through your computer's sound card. Direct MIDI to MP3 Converter offers an efficient solution to all these problems - it converts your files DIRECTLY. As distinct from similar programs, Direct MIDI to MP3 Converter provides direct MIDI conversion employing no sound recording. As a result the speed of conversion is 5-10 times faster, output file quality doesn't depend on the quality of you sound card and your converted file is absolutely clean from foreign sounds. Another plus of Direct MIDI to MP3 Converter is the fact that it doesn't make you listen to the source MIDI file and adjust the recording level while converting, so the whole process goes on in silence.
Actually Direct MIDI to MP3 Converter synthesizes the WAV/MP3 file from the small samples of already digitized sounds of real music instruments. The very fragments of already written sounds performed by different instruments are called samples and the sets of such samples are called banks. So, the better are the banks, the better will be your output file. Direct MIDI to MP3 Converter provides you with its own rich bank of samples and allows you to download them from Internet or other source. The program offers support for SF2 format soundfonts, which provide an extremely high quality of the sound. New soundfonts will make your favorite MIDI compositions sound in an absolutely new, fresh way.
Direct MIDI to MP3 Converter automates the whole procedure - all you'll need to do is simply drag and drop your MIDI files into it. Conveniently Direct MIDI to MP3 Converter also allows you to playback files directly in the program - built-in audio player (with track bar) lets you listen to MIDI, MID, RMI or Karaoke files before you start the converting process. Another built-in feature is an easy-to-use Tag Editor that will help you name your files and correctly fill in all the fields of the ID3 tags of MP3, WMA or OGG tracks. For those, whose aim is to create a musical collection, Direct MIDI to MP3 Converter provides batch mode which allows you to simultaneously convert multiple MIDI tracks. You can also adjust the tempo of your files before converting. You may slow down or speed up the MIDI composition without changing the pitch of the file, and record it into audio file at the altered tempo. This feature has great potential for artists and their creations or for anyone who wishes to create an album of their favorite MIDI or Karaoke MIDI compositions performed with a certain tempo.
Direct MIDI to MP3 Converter also lets you easily adjust quality options. You can convert your favorite mobile phone MIDI ring tones to MP3 with adjustable reverberation and do that fast. Another advantage of Direct MIDI to MP3 Converter is that its trial version allows you to convert a complete file, not just a portion of a file as some other programs do. Direct MIDI to MP3 Converter will help to prepare music for any occasion, wedding, birthday party and so on. It will also help game developers to equip their games with background music. It will help all those who need to convert their MIDI files to WAV or MP3 really fast and with great quality. Effective and reliable Direct MIDI to WAV/MP3 Converter has already helped a lot of people to convert their MIDI files, now it's become even better and is ready to help many more.
Direct MIDI to MP3 Converter Unique Features:
Audio CD quality internal conversion without recording;
Adjustable Midi tempo;
Time-saving batch conversion mode;
Multilingual interface;
Support of most popular MIDI formats;
Adjustable qualities and bitrates;
High quality built-in MIDI player with track bar;
Full-featured Tag editor;
Full support of ID3 MP3, WMA and OGG tags;
Hot keys for all operations;
An easy-to-use Drag and Drop interface;
All available directions:
MIDI to MP3, MIDI to WAV, MIDI to WMA, MIDI to OGG, MIDI to WAVE,
MID to MP3, MID to WAV, MID to WMA, MID to OGG, MID to WAVE,
RMI to MP3, RMI to WAV, RMI to WMA, RMI to OGG, RMI to WAVE,
KAR to MP3, KAR to WAV, KAR to WMA, KAR to OGG, KAR to WAVE;
Windows Vista support.
We hope you enjoy all the features we've made in fast Direct MIDI to MP3 Converter.
---
If you want to split MP3 or WAV files into parts, use Direct WAV MP3 Splitter.
If you want to join multiple MP3 files, use Direct MP3 Joiner.
To convert audio files between various audio formats and rip CD audio tracks directly to MP3, WMA, WAV, OGG, FLAC, Monkey's Audio APE or MusePack MPC, use Direct Audio Converter and CD Ripper.
If you want to quickly convert MIDI to MP3, please use Direct MIDI to MP3 Converter.
MP3 Audio Recorder - Record high-quality music or low-bitrate audio streams directly into compressed sound files.
Pistonsoft MP3 Tags Editor is a powerful audio tagger to edit MP3, OGG, ASF and WMA tags of audio files. MP3 Tag Editor also allows you to create playlists, rename files, organize folders, export data to different formats, and more.
Freeware BPM Detector - Count Song's Beats per Minute Automatically.
Text to Speech Converter - Convert any text, document or Web page into an audio book or voice.