Midi and MP3 Music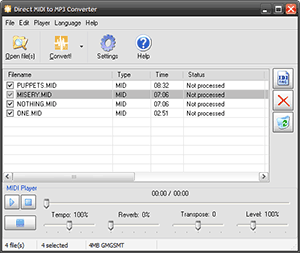 Show more testimonials...
"Now I succeeded in finding a
MIDI converter
program that pleases me very much. I had to try out at least ten programs. Nine of them relied on the playback and record functions in my sound-card, so they did not work! Number ten do not rely on a sound card at all, so it works! You don't have to fuss with recording levels and it even work faster!
I've measured that it takes
less than 12.5%
of the playback time to convert a midi-file to a MP3-file. On top of it all you can choose the very
sound font
file (*.sf2) you want in the conversion."
S.V.Nielsen
I belong to Faith Lutheran Church in St. Edward, Nebraska. We are a very small congregation with limited funds to run the church. It is a farming community and most of the cong. is older people. I have been the secretary for over 20 years. I am a deaconess and do heath care for several elderly people in town who can't afford other care. But my latest love and devotion is the old computer I was given and now can talk to all my old classmates and family. I have written a devotion for them for over 9 years now but with this newer computer I can send pictures and music to go with the devotion.
A friend showed me how to get the music but was unable to hear it after I saved it and another friend told me I had to have a
midi converter
to
save Midi music
. Then I found your
Direct MIDI to WAV/MP3 Converter
by accident and you let me have it free to try. It took me awhile to learn the right procedure. I am a lady of 69 and things of this sort don't come to me so quickly anymore. I was so glad to hear back from you as I wondered if a real person was on the other side of this site. I hope you can help me in my daily devotion. I forgot to tell you how the readers enjoy the music with the devotion. They even write back and ask for the words to the hymn.
Thank you so very much for this service and I promise to do good things with it and hope it will please the LORD. Now with your help and His I will fit the right hymn with the Scripture text. I know my readers will enjoy it also. With great appreciation, yours in Christ, Shirley
I do have a request that I would ask you to put on your site. If anyone knows of good free site that has Scripture text and hymns to match, I would appreciate hearing from them at:
shirleychoat (at) yahoo.com
.
Thanks again for all your help. Now I must get to work.
Yours in Christ. Shirley Choat
---
If you want
get discount
or
free copy
of the
Direct MIDI to MP3 Converter
for your church please
contact us
Direct MIDI to WAV/MP3 Converter's main features:
Quick and fast midi rendering engine - up to 10 times faster than the original midi file time;
Audio CD quality because of internal fast conversion without recording;
SF2 Soundfont support;
Adjustable reverb control;
Adjustable Midi tempo;
Fast batch conversion mode that saves your time;
Most popular MIDI formats are supported;
Adjustable qualities and bitrates;
High quality built-in MIDI player with trackbar;
Fully featured OGG/WMA/MP3 Tag editor;
Full support of ID3 MP3 tags;
Full support of WMA tags;
Full support of OGG tags;
Multilingual interface;
Hot keys for all operations;
An easy-to-use Drag and Drop interface;
Recording Level adjustment;
All available directions:
MIDI to MP3, MIDI to WAV, MIDI to WMA, MIDI to OGG, MIDI to WAVE,
MID to MP3, MID to WAV, MID to WMA, MID to OGG, MID to WAVE,
RMI to MP3, RMI to WAV, RMI to WMA, RMI to OGG, RMI to WAVE,
KAR to MP3, KAR to WAV, KAR to WMA, KAR to OGG, KAR to WAVE;
Windows Vista compatible.
We hope you enjoy all the features we've made in fast Direct MIDI to MP3 Converter.
---
If you want to split MP3 or WAV files into parts, use Direct WAV MP3 Splitter.
If you want to join multiple MP3 files, use Direct MP3 Joiner.
To convert audio files between various audio formats and rip CD audio tracks directly to MP3, WMA, WAV, OGG, FLAC, Monkey's Audio APE or MusePack MPC, use Direct Audio Converter and CD Ripper.
If you want to quickly convert MIDI to MP3, please use Direct MIDI to MP3 Converter.
MP3 Audio Recorder - Record high-quality music or low-bitrate audio streams directly into compressed sound files.
Pistonsoft MP3 Tags Editor is a powerful audio tagger to edit MP3, OGG, ASF and WMA tags of audio files. MP3 Tag Editor also allows you to create playlists, rename files, organize folders, export data to different formats, and more.
Freeware BPM Detector - Count Song's Beats per Minute Automatically.
Text to Speech Converter - Convert any text, document or Web page into an audio book or voice.