Convert Midi Composition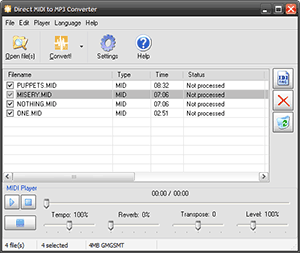 Show more testimonials...
"Having just bought a new cell phone which had MP3 capabilities, I was now faced with how to convert my existing
MIDI collection to MP3
. I went searching for a trial version of some "no fuss, full working" software, and my first test would be against a few harpsicord collections. A
Google
search brought me to your site and after further research, decided to give it a whirl. Your
Direct MIDI to MP3 Converter
worked like a charm (and so did the cell phone). Both the install, ease of use, and full working trial were very welcome. I am now happily look forward to converting more of my MIDI collection to listen on my MP3 player."
Gene
"Before this, I'm using anothers products to convert our Church songs to share using Mp3 type cd's. But this
Direct MIDI to MP3 Converter
let me choose the right quality the best I ever heard. It's a high quality converter, Thanks for the software..."
Papuruka
"
Direct MIDI to MP3 Converter
an excellent program. Easy to use with an intuitive user interface. Conversion of files is rapid with the resultant mp3 being of a good size and quality. I needed to play the national anthems of several countries at a sports tournament. The anthems were only available in the .mid format while mp3 format was required. The converter allowed me to meet the required commitment I had made to getting the files ready and on time."
Kibaazi
"Kindly help us to
convert the files
as we are planning to sing the songs with the track played in the background."
Jounitap
Your software has, officially saved me a lot of time and trouble. I have searched for so long to find a decent midi converter. In the deepest time of desperation, as I was just about to give up, I stumbled upon your miracle software! There it was, at last… The
ultimate midi converter
! What more could I have asked for!
Perfect in every way, with a simple to use interface, fast conversion, and no problems whatsoever – not to mention the awesome soundfont support! I installed it and it saved my midi project.
Being a music student, I write most compositions out in midi format, so that I can hear them played back to me. This is very useful for me, because it allows me to analyse every second of the music I make, as many times as I want to.
Recently I was assigned a project, which was to compose a piece of music in Baroque style. However, I was extremely dejected when I realised that the exam board only accepted recordings in mp3 or wav format.
I only realised this after completing my masterpiece
midi composition
, and to my great regret, I realised that they would never accept my midi file…
I was left with only one choice: to convert my
midi into an mp3
. Yet that became a task that seemed almost impossible. The countless nights I spent searching for a decent midi converter, yet it was all in vain… until I discovered
Direct MIDI to MP3 Converter
!
Your software has made my life so much simpler. I managed to convert my midi just before the deadline, and submitted my work! On top of that, I know that I will be faced with such a problem ever again. Not only is midi conversion simplified, but it also allows me to change the tempo, the reverb or the volume of a file! As a music student your software has been priceless to me, and I am eternally grateful for
Direct Midi to Mp3 Converter
.
From now on, whenever I need to
convert midi
, I turn to
Direct MIDI to MP3 Converter
, because I know that I can rely on it whenever I need to, whenever fate summons it… whenever, wherever, without a single problem!
Patchizz de Nito
---
DOWNLOAD FREE TRIAL!
---
We hope you enjoy all the features we've made in fast Direct MIDI to MP3 Converter.
---
If you want to split MP3 or WAV files into parts, use Direct WAV MP3 Splitter.
If you want to join multiple MP3 files, use Direct MP3 Joiner.
To convert audio files between various audio formats and rip CD audio tracks directly to MP3, WMA, WAV, OGG, FLAC, Monkey's Audio APE or MusePack MPC, use Direct Audio Converter and CD Ripper.
If you want to quickly convert MIDI to MP3, please use Direct MIDI to MP3 Converter.
MP3 Audio Recorder - Record high-quality music or low-bitrate audio streams directly into compressed sound files.
Pistonsoft MP3 Tags Editor is a powerful audio tagger to edit MP3, OGG, ASF and WMA tags of audio files. MP3 Tag Editor also allows you to create playlists, rename files, organize folders, export data to different formats, and more.
Freeware BPM Detector - Count Song's Beats per Minute Automatically.
Text to Speech Converter - Convert any text, document or Web page into an audio book or voice.