Convert MIDI to CD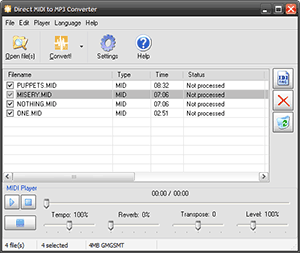 Download
|
Testimonials
|
Buy now!
---
---
Direct MIDI to MP3 Converter in the church
---
MIDI to WAV Converter Reviews
---
Read more about MIDI to MP3/WAV Converter
---
Press Release
Direct MIDI to MP3 Converter - The Best Way to Convert a MIDI for MP3 player or Audio CD
---
"Thank u for being there when needed. This mid converter really helps our church. We convert MIDI songs to MP3 so we can use our not so up-to-date computer in our church. Really thank u so much!!!!"
Maria Divina Baltazar
---
"We have a church in our Methodist circuit in the UK which finds it dificult to get an organist every week - they have 7 elderly members and I am using the free download version to convert midi hymns to wav so they can be played on a CD player. "
Michael
---
"Thank you! We have been searching for midi converting tool for quite some time and are glad to find it finally! With the midi converter, it has helped improving our church's music ministry, which resolves our need of converting midi to MP3 for worship usage."
God bless, Torrey
---
"Thank you for Direct MIDI to MP3 Converter!
You are the only company that I have found who has a FULL trial of your software, albeit for a limited time. You have saved my you-know-what as I have to perform a song tonight and I could not find any way to change the midi file that I needed into a format that I could play on a regular CD player. Your software is excellent, easy to use and I play on spreading the word about it to everyone that I know who does this sort of thing. Thank you again. "
Lynnda Felhaber
---
"Now I succeeded in finding a MIDI converter program that pleases me very much. I had to try out at least ten programs. Nine of them relied on the playback and record functions in my sound-card, so they did not work! Number ten do not rely on a sound card at all, so it works! You don't have to fuss with recording levels and it even work faster!
I've measured that it takes less than 12.5% of the playback time to convert a midi-file to a MP3-file. On top of it all you can choose the very sound font file (*.sf2) you want in the conversion. "
S.V.Nielsen
---
As often it is necessary for us to
record a favorite midi file on CD
or simply make mp3 or wav file of it to give our friends or listen ourselves. We need to
transfer a midi sound
(as it is possible) more really and more colourfully as it is a good sound recording of popular artist. Other people create music with their computer and programs. I can advice the new updated version of program
Direct MIDI to MP3 Converter
for all those users. It gives to us an possibility to do with midi files all that we want. A zest of program that makes its difference from many other cloned
midi converters
is a thing that it does not take a sound for record from an output of audio device of your card, but gives a support of user
banks of sounds
(that is called also a
SoundFonts
).
Direct MIDI to MP3 Converter
has some built-in features. Such as you can easily not only
convert a midi file
, but also you can choose the needed tool for play and receiving high and real quality of sound. And then you set a sounding time and reverberation level. You need to choose only a recording bitrate and format (this program supports converting in MP3, WAV, WMA and OGG formats). The simple and comfortable
Tag editor
allows you to set the name of composition and album, year of record and a name of artist. Thus you can convert at once several MIDI, MID, KAR or RMI files.
Direct MIDI to MP3 Converter
has a simple minimalistic interface. All you need is before you in some visible instruments. You listen to a file and at once change some its parameters like set a volume.
Nowhere else you will find a similar thing. Also you have a great chance to "try before buy" this program during 30 days and after the trial period is passed, I assure you, you still will return to it for other such pleasant time of
converting a favorite midi file
:)
Best regards, Angel Lee
---
Direct MIDI to WAV/MP3 Converter's main features:
Quick and fast midi rendering engine - up to 10 times faster than the original midi file time;
Audio CD quality because of internal fast conversion without recording;
SF2 Soundfont support;
Adjustable reverb control;
Adjustable Midi tempo;
Fast batch conversion mode that saves your time;
Most popular MIDI formats are supported;
Adjustable qualities and bitrates;
High quality built-in MIDI player with trackbar;
Fully featured OGG/WMA/MP3 Tag editor;
Full support of ID3 MP3 tags;
Full support of WMA tags;
Full support of OGG tags;
Multilingual interface;
Hot keys for all operations;
An easy-to-use Drag and Drop interface;
Recording Level adjustment;
All available directions:
MIDI to MP3, MIDI to WAV, MIDI to WMA, MIDI to OGG, MIDI to WAVE,
MID to MP3, MID to WAV, MID to WMA, MID to OGG, MID to WAVE,
RMI to MP3, RMI to WAV, RMI to WMA, RMI to OGG, RMI to WAVE,
KAR to MP3, KAR to WAV, KAR to WMA, KAR to OGG, KAR to WAVE;
Windows Vista compatible.
DOWNLOAD FREE TRIAL!
We hope you enjoy all the features we've made in fast
Direct MIDI to MP3 Converter
.
---
To convert audio files between various audio formats and rip CD audio tracks directly to MP3, WMA, WAV, OGG, FLAC, Monkey's Audio APE or MusePack MPC use
Direct Audio Converter and CD Ripper
. With
Direct Audio Converter and CD Ripper
you can convert directly from one audio format to another.
If you want to split MP3 or WAV files into parts use
Direct WAV MP3 Splitter
.
Direct WAV MP3 Splitter
is an easy to use tool to split MP3 or WAV files.
If you want to join multiple MP3 files use
Direct MP3 Joiner
.
Direct MP3 Joiner
is an easy and fast tool to merge MP3 files.