Direct WAV MP3 Splitter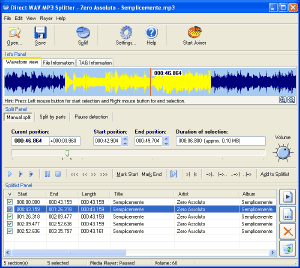 Show more testimonials...
"I just wanted to write a few words to thank you all at your software company for producing such a brilliant and intuitive program. Congratulations! A happy customer :)"
John Carrod
"So I have the mp3 splitter installed on the main computer and my tiny notebook computer too. I love the simplicity of the program. You'd have trouble finding such a simple and useful piece of software here in America; here they try to make things as complicated as possible! And they never leave anything alone; has to be modified at least monthly....it drives me crazy!!!! With the
mp3 splitter
, I can use my Zoom recorder and record a whole music practice or gig by just leaving the recorder running, (i'm a musician) and then later load it into the program on the computer and split it up into individual tunes. It is not difficult at all to do and I'm 60. It's a very straightforward and useful software tool that I use all the time and would not want to do without. I totally love it!"
Jim Parfitt, Seattle
"I took this one
MP3 Splitter
over the alternatives, even the free ones, because the handling for me is the best. Especially the overlap feature. I will use it to transfer longer speeches, split into little parts, on my iPod, where I can more easily move around in the split files, as I transcribe them with Speech recognition software."
Enkie
"I purchased your
Direct WAV MP3 Splitter
to use to split audio book files into smaller chapters for use with my MP3 player. I love the product - fast, easy to use - great results."
Edward Hartmann
"Just wanted to tell you guys "great job" on
MP3 Splitter
! Intuitive, clean UI and very fast...right now. I'm using the eval version, but I'll definitely be buying! Nice work! Thanks, this is great software!"
J Scott Jones
"I have used your programme
Direct WAV MP3 Splitter
to split up a large number of radio recordings of about one hour into three parts of equal size. Your programme is quite easy to use and I think I will buy it."
Chris Struiksma
"This is a great little program with lots of power. I record a lot of seminars and meetings and this little guy does the trick! No one likes to fast foward through a hour-long mp3 to find what they are looking for. By
splitting mp3 into smaller files
, it makes it much easier to listen to as well as to burn to CD. Keep up the good work!"
Thanks, Bill Watkins
"Thanks so much for such a quick response! Really love the app. My mp3 player tends to not keep things bookmarked so I split my podcasts up before I listen to them, that way I can get to the part I'm up to without having to fast forward. Your app is so much better than ones I tried out col-sm-12ously. Glad to keep using it!"
Jay Reinke
Split MP3s into More Manageable Sections with an MP3 Splitter
For those who regularly work with MP3 files, an MP3 splitter is a useful utility to have. For anyone who records long audio tracks it becomes necessary to split them into smaller tracks so that they are easier to manage and edit. Having extremely long audio tracks can be inconvenient, especially when it comes to editing them or moving them around. With the right sort of
MP3 splitter
, you can solve this problem quickly and easily without the files even requiring any re-compression. A decent solution can also split the files automatically by detecting any pauses between sections of audio. One solution that provides all of the features that everyone from professional audio engineers to casual MP3 users need is called
Direct WAV MP3 Splitter
.
With built in silence detection, the software can save you a great deal of time. Using other methods to split up the audio files can be extremely time consuming but since the program will automatically detect pauses and silences between perceived audio tracks in a single MP3, this will all be done automatically. MP3 and WAV files can also be split into equal sized parts, by time intervals and more. Not only does the software include an MP3 split feature, but it also includes a
WAV cutter
allowing you to work with different formats.
CUE files
are also supported. The software is easy to use and it also works exceptionally quickly. Although the software provides the features that professionals need, no special knowledge is required to operate the software. It works quickly and requires minimal input from the end user.
The wav split software supports files of any size. For example, you can use the software to split up wav files which are several gigabytes in size. This is great if you make enormous recordings which then need to be cut into different tracks. The
MP3 cutter
will make the tracks far more manageable and also more likely to play back on other devices without any problems. Various different sub-formats of MP3 files are also supported. This includes support for variable bit rate MP3 files. You can also view your audio files visually using sound graphics. The software can automatically name the files that are produced from splitting the audio files. This file name creation process is flexible and easily configurable. Additionally, other operations in the program can also be carried out by the use of hot keys. A drag and drop interface makes things faster and more convenient than ever. Also, you can col-sm-12ew files using the built in audio player.
The software works very quickly since it does
not need to re-compress
or convert your audio. It simply splits the original files and does nothing else. Quality will not be affected, and results will come quickly and accurately. The solution is ideal for anyone who records long tracks as well as those who need to digitize old records or tapes and then split them up so that each track is in a separate file. Compared to other solutions,
Direct WAV MP3 Splitter
provides you with an audio splitter that does not make any changes to quality or format.
Download Direct MP3 Splitter
for free.
Features
:
New fast engine for splitting large MP3 and WAV files;
Support for MP3 and WAV files of more than a few gigabytes in size;
Visually split MP3 files using wave graphics;
Split audiobooks, podcasts, ripped CD audio tracks, audio tapes and much more;
Set MP3 cut points easily;
Drag MP3 cut points visually however you want;
With the built-in MP3 and WAV player, you can pre-listen to each section you want to split before performing MP3 splitting;
Adjustable player speed;
With a slider bar you can visually and quickly get to the time you want to split at;
Automatic pause detection - Screenshot;
Automatic silence detection;
Split MP3 albums into separate tracks;
Flexible automatic track numbering;
ID3 tag version 1 and 2 support;
You can edit ID3 tag metadata for each section - Screenshot;
Split MP3 or WAV files into equal-sized segments by parts, by time, by size- Screenshot;
MPEG1, MPEG2 and MPEG 2.5 Layer 3 file support;
VBR (Variable Bitrate) MP3 file support;
New flexible filename creation - Screenshot;
Load and save MP3 cut points to a file;
Load and save CUE files;
Load and save files in the program's own format;
Automatic MP3 splitter;
Trim MP3 files;
New user-friendly adjustable interface;
Hot keys for all operations;
Drag and Drop support.
---
If you want to split MP3 or WAV files into parts, use Direct WAV MP3 Splitter.
If you want to join multiple MP3 files, use Direct MP3 Joiner.
To convert audio files between various audio formats and rip CD audio tracks directly to MP3, WMA, WAV, OGG, FLAC, Monkey's Audio APE or MusePack MPC, use Direct Audio Converter and CD Ripper.
If you want to quickly convert MIDI to MP3, please use Direct MIDI to MP3 Converter.
MP3 Audio Recorder - Record high-quality music or low-bitrate audio streams directly into compressed sound files.
Pistonsoft MP3 Tags Editor is a powerful audio tagger to edit MP3, OGG, ASF and WMA tags of audio files. MP3 Tag Editor also allows you to create playlists, rename files, organize folders, export data to different formats, and more.
Freeware BPM Detector - Count Song's Beats per Minute Automatically.
Text to Speech Converter - Convert any text, document or Web page into an audio book or voice.