Midi Converter for Mac OSX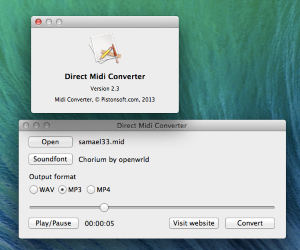 Show more testimonials...
"I've been songwriter for more than 6 years now and I have worked extensively with MIDI. I'm an advocate of simple and easy-to-use software, but many of the software I've used are either complex or not powerful to meet my needs. I chanced upon MIDI Converter and I must say this is the software I've been looking for! Simple to use, yet powerful and fast! The soundfont support is what I've always needed! Thank you Piston Software for MIDI Converter!"
Jen C
"I love your midi converter! I am hoping to load my first midi demo album onto the net, and am in a bit of a time crunch. I was searching fruitlessly for a program that would meet my needs. There were several other options that would either limit how many songs I could convert per day, or (can you believe this) limit how many seconds of song the trial program would convert. I was at the height of my frustration when I found your site. The midi converter was everything that I wanted and then some. I truly appreciate the effort that went into this user friendly, fantastic little program. It is fantastic!"
Annie Lauriecechini
"The direct
MIDI Converter
is absolutely fantastic. A couple of clicks and 20 files converted to WAV in a few moments. Most of the conversions sound better than the original MIDI. I have lots of midi files which I can now convert to wav, burn to CD and play in my car's CD player. The music player has to be one of the neatest ones available. I like the way the different bits can be dragged anywhere on the desktop. The CD ripper is ( pardon the pun ) a real ripper. Like the Midi converter it is so simple to use. The built in converter idea is another plus for the program. I will be recommending these programs to anyone who has midi files and wants to create their own CD compilations (at 69 years young, I need simple-to-use programs) All I can say is THANKS for 2 absolutely fantastic and easy to use programs."
John Ferris Muswellbrook, Australia
Midi Converter for Mac OSX is a small but powerful little utility aimed mostly at people who compose music on their computers in midi format. However, there is a problem with the midi format, that being that it is not as versatile as MP3. In order to be able to easily distribute your music files, you are ideally going to want to do so in a format that is most widely used.

However, if for some reason you don't want to use MP3 files, the program will also allow you to convert your midi files to various other popular formats such as WAV or WMA. Designed for Macintosh users, this is indeed a fairly unique program in a Microsoft-dominated world. No longer do Mac users need to worry about finding the software they need to convert music files.

Midi Converter for Apple Mac uses innovative and clever technology in order to achieve what it does. Similar programs tends to require actual sound recording of the original file in order to convert it. This takes a lot longer of course, or at least as long as the track itself. However, using advanced technology, this program does things somewhat differently.

The conversion is done directly, making it approximately 10 times faster than the traditional conversion programs. This also allows for higher quality as well, something that you wouldn't normally expect for something that is so much faster. This way you get the best of both worlds, something fast and efficient, and something that produces a very high quality end result.
Convert Your Midi Files with Midi Converter for Mac OSX
If you want to get things done quickly and get high quality results, you often have to pay a lot of money for it, but this program is the true bargain, and an absolute must for anyone who composes music on their Macintosh computer. If you need to get a file conversions done quickly, then this program will be absolutely invaluable to you, and it does not come with a high price tag.

What's more, if you want to try it, you are more than welcome to. With a full trial offered, you can try the program for free for a limited amount of time, to see if it works for you. You certainly won't be disappointed, and frankly, there are no other programs which can do what this one does as quickly and with high quality results.

However, this product is not exclusively aimed at musicians. Although any musician who uses the Macintosh to compose music would find it extremely beneficial, it can also be useful for anyone who handles midi files. For example, if you have a large music collection in this format, you may want to be able to play it back on various other computers or handheld devices.

The midi format, although compatible with just about any computer, will definitely have some problems playing back on the average handheld device or standalone devices for music playback. In order to overcome this compatibility issue, being able to convert it to something like MP3 will allow you ultimate versatility and also open up a new range of options.

System Requirements: Apple Mac OS X compatible system, Internet connection.


---
If you want to split MP3 or WAV files into parts, use Direct WAV MP3 Splitter.
If you want to join multiple MP3 files, use Direct MP3 Joiner.
To convert audio files between various audio formats and rip CD audio tracks directly to MP3, WMA, WAV, OGG, FLAC, Monkey's Audio APE or MusePack MPC, use Direct Audio Converter and CD Ripper.
If you want to quickly convert MIDI to MP3, please use Direct MIDI to MP3 Converter.
MP3 Audio Recorder - Record high-quality music or low-bitrate audio streams directly into compressed sound files.
Pistonsoft MP3 Tags Editor is a powerful audio tagger to edit MP3, OGG, ASF and WMA tags of audio files. MP3 Tag Editor also allows you to create playlists, rename files, organize folders, export data to different formats, and more.
Freeware BPM Detector - Count Song's Beats per Minute Automatically.
Text to Speech Converter - Convert any text, document or Web page into an audio book or voice.