Midi Piano Teacher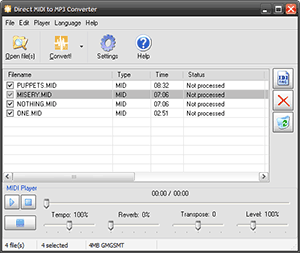 Show more testimonials...
"I have been looking for a MIDI to MP3 for months. I tried two other products and found them very confusing and not living up to my expectations. I can honestly say that your
MIDI to MP3 Converter
not only meets but far exceeds my expectations! I have finally been able to move 7 MIDI files to MP3 for my Granddaughter's player. She thinks Grandpa can do anything! :) Thanks for a great product."
Nevins A. Franke
"Before this, I'm using anothers products to convert our Church songs to share using Mp3 type cd's. But this
Direct MIDI to MP3 Converter
let me choose the right quality the best I ever heard. It's a high quality converter, Thanks for the software..."
Papuruka
"
Direct MIDI to MP3 Converter
an excellent program. Easy to use with an intuitive user interface. Conversion of files is rapid with the resultant mp3 being of a good size and quality. I needed to play the national anthems of several countries at a sports tournament. The anthems were only available in the .mid format while mp3 format was required. The converter allowed me to meet the required commitment I had made to getting the files ready and on time."
Kibaazi
"Having just bought a new cell phone which had MP3 capabilities, I was now faced with how to convert my existing
MIDI collection to MP3
. I went searching for a trial version of some "no fuss, full working" software, and my first test would be against a few harpsicord collections. A
Google
search brought me to your site and after further research, decided to give it a whirl. Your
Direct MIDI to MP3 Converter
worked like a charm (and so did the cell phone). Both the install, ease of use, and full working trial were very welcome. I am now happily look forward to converting more of my MIDI collection to listen on my MP3 player."
Gene
I have been using MIDI files generated in
Finale
for eleven years.
Finale
is one of the most popular music notation progrmas. Notes can be input through a MIDI keyboard or other instrument. Since MIDI is the language that Finale uses to communicate data to and from the instrument, it makes sense that Finale would
save audio files as MIDI
. However, MIDI files are becoming less useful, and Finale still offers only this format for output. I am a piano teacher, who recently has begun to specialize in autistic students, and prior to that was specializing in teaching adults to play by ear. I also am beginning to teach live online lessons through the use of a webcam. Whatever the medium for the actual lesssons, I find that creating customized accompaniment tracks and demo recordings for the students is very helpful.
One of the best ways to develop rhythm is to play along with someone (or something) - preferably an experience musician, but a recording will do. I use audio clips for the students to play along with, or to hear how it's "supposed" to be played. Until a few years ago using MIDI was fine and I could put files on disk for students or email them. With MP3 becoming more commonplace, some computers do not have the capacity to handle a MIDI file. In addition,
converting to MP3
allows my students to play these sample/accompaniment files through their Ipods or whatever device they want, whereas MIDI is mostly obsolete and can only be played (maybe?) through the PC. Still, it is convenient to create songs in Finale and then
convert them to MIDI
since I can change the tempo, key or instrumentation without redoing the whole song. This is especially true since I have the music notated already as part of my books of arrangements that I make available to my students.
The
Direct MIDI to MP3 Converter
software is easy to use, and the MP3 files it outputs sound quite good. In fact, the
MP3s seem to sound BETTER
than the original MIDI files. The feature "save to same directory as original" is very convenient. Also very useful and convenient is the converter's ability to transpose (change key) from the original MIDI file, and to change the tempo. These are exactly the kinds of modifications I make all the time to suit individual students. I am very thankful that the program does this. You can also bump up the volume, which I like because Finale's MIDI file output tends to come out with far too low or a recording level.
Another interesting use for the converter is taking MIDI files acquired off the internet, particularly classical selections, and converting them so they can be shared more easily, or even played on external devices. I am pleased to have found this product. The controls are easy to use, and I intend to upgrade to the full registered copy soon.
Alex Citron (Syracuse, NY)
---
DOWNLOAD FREE TRIAL!
---
Direct MIDI to WAV/MP3 Converter's main features:
Quick and fast midi rendering engine - up to 10 times faster than the original midi file time;
Audio CD quality because of internal fast conversion without recording;
SF2 Soundfont support;
Adjustable reverb control;
Adjustable Midi tempo;
Fast batch conversion mode that saves your time;
Most popular MIDI formats are supported;
Adjustable qualities and bitrates;
High quality built-in MIDI player with trackbar;
Fully featured OGG/WMA/MP3 Tag editor;
Full support of ID3 MP3 tags;
Full support of WMA tags;
Full support of OGG tags;
Multilingual interface;
Hot keys for all operations;
An easy-to-use Drag and Drop interface;
Recording Level adjustment;
Ability to Minimize program during midi conversion;
Transpose MIDI feature, you can change key;
All available directions:
MIDI to MP3, MIDI to WAV, MIDI to WMA, MIDI to OGG, MIDI to WAVE,
MID to MP3, MID to WAV, MID to WMA, MID to OGG, MID to WAVE,
RMI to MP3, RMI to WAV, RMI to WMA, RMI to OGG, RMI to WAVE,
KAR to MP3, KAR to WAV, KAR to WMA, KAR to OGG, KAR to WAVE;
Windows Vista compatible.
We hope you enjoy all the features we've made in fast Direct MIDI to MP3 Converter.
---
If you want to split MP3 or WAV files into parts, use Direct WAV MP3 Splitter.
If you want to join multiple MP3 files, use Direct MP3 Joiner.
To convert audio files between various audio formats and rip CD audio tracks directly to MP3, WMA, WAV, OGG, FLAC, Monkey's Audio APE or MusePack MPC, use Direct Audio Converter and CD Ripper.
If you want to quickly convert MIDI to MP3, please use Direct MIDI to MP3 Converter.
MP3 Audio Recorder - Record high-quality music or low-bitrate audio streams directly into compressed sound files.
Pistonsoft MP3 Tags Editor is a powerful audio tagger to edit MP3, OGG, ASF and WMA tags of audio files. MP3 Tag Editor also allows you to create playlists, rename files, organize folders, export data to different formats, and more.
Freeware BPM Detector - Count Song's Beats per Minute Automatically.
Text to Speech Converter - Convert any text, document or Web page into an audio book or voice.