Midi Converter für Mac OSX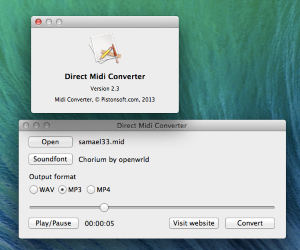 "Ihr Programm MIDI Converter ist das beste Programm, mit dem MIDI Dateien in MP3 oder WAV umgewandelt werden können. Ich benutze es zum Umsetzen meiner selbstkomponierten MIDI-Dateien und bin immer wieder überrascht, wie einfach und schnell die Umsetzung geht. Ich hatte vorher schon einige derartige Programme getestet, aber keines erfüllte meine Anforderungen. Mit MIDI Converter habe ich endlich das optimale Programm für mich gefunden. Danke!"
Tierramadre Helmut Woldrich (Apple Mac OSX)
Der Midi Converter für Mac ist ein kompaktes Programm, entwickelt für Komponisten, die Ihre Musik auf Macintosh Computern komponieren. Die Möglichkeit Midi-Dateien schnell zu konvertieren ist sehr wertvoll, da, wenn Sie Musik auf Ihrem Computer komponieren, höchstwahrscheinlich dieses Format benutzt wird. Um die Dateien dann in MP3 umzuwandeln, werden Sie ein solches Konvertierungsprogramm benötigen.


---
Wenn Sie MP3 und WAV Dateien in Teile schneiden wollen, benutzen Sie Direct WAV MP3 Splitter.
Direct MP3 Joiner ist ein einfaches und schnelles Werkzeug zum Kombinieren, Vereinigen und Zusammenfügen von MP3-Dateien. Wenn Sie mehrere MP3-Dateien zu einer vereinigen wollen, benutzen Sie Direct MP3 Joiner.
Mit Direct Audio Converter und CD Ripper kann man seine Lieblingstracks zu allen möglichen Formats konvertieren, Audio-CDs zu allen Formates Rippen und dabei Tag-Infos aus der FreeDB Datenbank importieren. Zum Umwandeln von Audio-Dateien (MP3, WMA, WAV, OGG, FLAC, Monkey's Audio APE, MusePack MPC, AIFF, AAC, MP4, M4A) in verschiedene Formate und zum Rippen von Audio-CDs, benutzen Sie Direct Audio Converter and CD Ripper.
Unser Direct MIDI zu MP3 Konverter kann eine MIDI-Datei in ein Format umwandeln, das Sie zu einer CD brennen und mit einem normalen CD-Spieler abhören können. MIDI to MP3 Converter ist eine einfache Audio-Utility, die MIDI-Dateien in MP3, WAV, WMA und OGG Format umwandelt.
MP3 Audio Recorder - MP3-Dateien direkt von beliebigen Audioquellen aufnehmen.
Pistonsoft MP3 Tags Editor ist ein leistungsstarker Tagsorganizer für Audiodateien. Mit seiner Hilfe können Sie mühelos Ihre große Musiksammlung ordnen. MP3 Tag Editor ist ein Tageditor für Audiodateien mit Batchmode.
Freeware BPM Detector - Beats pro Minute automatisch zahlen. Free!
Konvertieren Sie einen beliebigen Text, ein Dokument oder eine Webseite in ein Audiobuch. Pistonsoft Text to Speech Konverter kann beliebige Texte vorlesen.