How to split MP3 file?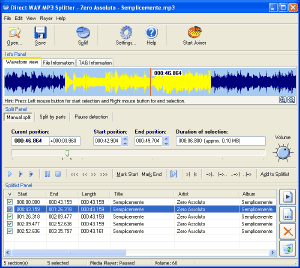 Show more testimonials...
"I have been using the
Direct WAV MP3 Splitter
trial version for 2 weeks. This program has a lot of value.
- Trial version has full capability for 30 days,
- Complete functionality for splitting and organizing mp3 files,
- Tag editor is flexible with auto features,
- Great flexibility on pause auto-detection,
- File naming function is easy,
- Interface is superb and easy to navigate.
I will almost certainly purchase this program, and will look no further for a file splitter if/when I do reach for my wallet. I have no complaints whatever. It's a very stable program that performs like it ought to."
JVM2
"Your
MP3 Splitter
provides an important capability for someone with a large collection of records or tapes, who records these in absence, then needs to cut the resultant recordings into tracks to preserve on CDs...
Your program is the critical enabler of my music collection efforts and I am beginning to love it dearly for its feature richness, its fast operation (I routinely process and cut files 200 MB and more in size) and its willingness to do a simple job with minimal fuss. I would (and have) recommend your program without hesitation.
Thank you for writing a program which is compact, fast, and just works!"
Chris Herd
"A website I like offers free mp3 downloads of interviews with spiritual teachers, but they are 45+ minutes long. When I burn them onto cds and play them in my car, when I turn my car off they go back to the beginning. This was very frustrating as I kept hearing the same first 10 mins. over and over! (there is a fastforward and rewind button, but it is very slow and time consuming). Now with direct mp3 splitter, I can split the program up into 4 min. sections with a couple of mouse clicks, so the next time I am in my car, I can find where I left off, rather than go back to the beginning."
Nick Lennon
"I have been trying to find a suitable
MP3 cutting software
for some time now and after downloading trials of software that is not easy to use or self explanatory, I have found your software to be the best on the market and I will be purchasing the full license as it was easy to use."
Gurvinder Hullait
Direct Wav Mp3 Splitter
is one of the most amazing programs I have ever had the opportunity to use. There are
mp3 splitters
that will do the task needed but not as well or as easily as this one. Once you figure out what has to be done to accomplish the desired end it takes only a moment to do it. The ability to scan forwards and backwards while in listening mode is one of the highlights. This way you can find exactly what point you wish to stop the first portion of the mp3 file you are editing. Then you just click end and that first chunk is done. You then move it to the area where it is held and used for actually splitting the mp3 file. If the file is longer than the amount that would say fit on two audio CD's then you can start the 2nd segment where the first one left off or you can even go back a bit and start the 2nd portion there.
With one click you can then tell the
mp3 splitter
program where to end the segment. The timeline of the file being edited is a lot of help especially when you consider that each audio CD will only hold about 80 mins of music. So the idea for me anyway... is to fill up the first audio CD as close to the end of it as possible without cutting off any music. Then you start the next audio CD with the 2nd segment that you created. As I said if there is a 3rd section that needs doing that's not a problem. You just mark the start of the segment which will become the 3rd split file and then you put the 2nd and 3rd files to be in the area down below.
Once you have all 2 or 3 mp3 segments in the area at the bottom of the program you can then highlight them all and click on the split button. All the work is now done for you and in seconds literally seconds it's done. The chart on the bottom area tells you what the lengths are of each segment and where in the original giant mp3 file they were. Your original mp3 file is not affected incidentally. Once you
burn the audio CD's
that you wish to create with these individual mp3 files you can then delete all 4 files - the original long one and the two or three shorter ones that you created. This makes life so much easier.
I have found that I often get single files in downloading mp3 music. That are either album wraps or just single file long concerts in one mp3 file. Often these are wma files so what I do is
convert wma to mp3
or wav file and then plug it into the
Direct Wav Mp3 Splitter
and in a moment or two I am done and I can start to clear up room on my hard drive. Ultimately that is my main goal here - to save mp3 files to audio CD and to clear up my hard drive to make room for more things I wish to own. Oh and the ease of burning said audio CD's from these newly created segments that
Direct Wav Mp3 Splitter
has done for you is so incredible that I cant even imagine going without this program if you are a real fan of music and burning and editing things to fit just right.
I highly recommend this program for all your fast mp3 splitting needs. Be sure to check out the
Direct MP3 Joiner
as well. Another fine fast mp3 editing program developed by the same wonderful people at
Pistonsoft
that is invaluable for those who wish to
join mp3 files
without glitches or gaps. While I don't find that I use that nearly as often its certainly an extremely useful program and is clearly better to have before you need it than having to look for it after you need it. I say jump on both of these programs now.
What are you waiting for?
---
If you want to split MP3 or WAV files into parts, use Direct WAV MP3 Splitter.
If you want to join multiple MP3 files, use Direct MP3 Joiner.
To convert audio files between various audio formats and rip CD audio tracks directly to MP3, WMA, WAV, OGG, FLAC, Monkey's Audio APE or MusePack MPC, use Direct Audio Converter and CD Ripper.
If you want to quickly convert MIDI to MP3, please use Direct MIDI to MP3 Converter.
MP3 Audio Recorder - Record high-quality music or low-bitrate audio streams directly into compressed sound files.
Pistonsoft MP3 Tags Editor is a powerful audio tagger to edit MP3, OGG, ASF and WMA tags of audio files. MP3 Tag Editor also allows you to create playlists, rename files, organize folders, export data to different formats, and more.
Freeware BPM Detector - Count Song's Beats per Minute Automatically.
Text to Speech Converter - Convert any text, document or Web page into an audio book or voice.