Make Your Own Audio Books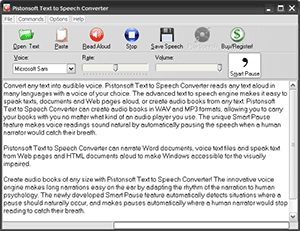 Please download additional multiple languages and different choices of voices from
Cepstral web site
Do you travel often? Taking a long-haul flight can be made easier and far less boring if you have a good reading with you. In a long-haul drive, however, you normally don't spend too much attention to a printed or electronic book without crashing into someone. The solution? Audio books.
Audio books are great when you need to kill some time. Their entertainment and educational value is hard to underestimate. Pick a fiction book, and you're likely to enjoy the long flight, drive or walk. Choose a language course, and you'll get a chance to learn the language while doing regular driving. In this article you will learn how to save money by producing your own fiction and education audio books in just minutes instead of buying them for $20-40 apiece.
Text-to-speech is the only computer technology that can produce voice from ordinary texts. The technology is far from being new, but we're still not there in terms of voice quality. Unnatural, synthetic voices, spelling and punctuation problems, software limitations and the lack of adequate psychological models of human speech plague many old and current text-to-speech and text-to-voice algorithms, making audio books produced with, say, Microsoft TTS engine that comes bundled with Windows sound unnatural at best.
Luckily, there are computer programs designed to make computer-generated reading easy on the ear. Pistonsoft Text to Speech Converter can take texts and documents of any size and create high-quality audio books of any length. Its newly designed text-to-speech engine makes long readings sound natural and easy on the ear. The developers of this handy audio book creation tool tweaked the usual psychological model of modern text-to-speech engines, enhancing it with Smart Pause.
Smart Pause is exactly what makes the audio books produced by Pistonsoft Text to Speech Converter easy on the ear. As computers don't breathe, they tend to produce narrations that sound uncomfortable to the human ear. The computer-generated narrations, while pausing at dots and commas, completely lack pauses that a human reader would need to catch their breath. As a result, the text becomes too monotonous, and very soon the listener gets the uncomfortable feeling of suffocation.
Smart Pause makes Pistonsoft Text to Speech Converter 'breathe'. The text-to-speech engine used in the audio book converter automatically detects moments when a human reader would need to breathe in, and makes appropriate pauses in the reading. As a result, the long-playing audio books sound more natural and easier on the ear than those produced with comparable text-to-speech engines.
Pistonsoft Text to Speech Converter lets you select any SAPI 5 voices installed on your computer or download an extra one from the Cepstral Web site. You control the speed and volume of your audio book to produce readings most comfortable to your taste.
---
If you want to split MP3 or WAV files into parts, use Direct WAV MP3 Splitter.
If you want to join multiple MP3 files, use Direct MP3 Joiner.
To convert audio files between various audio formats and rip CD audio tracks directly to MP3, WMA, WAV, OGG, FLAC, Monkey's Audio APE or MusePack MPC, use Direct Audio Converter and CD Ripper.
If you want to quickly convert MIDI to MP3, please use Direct MIDI to MP3 Converter.
MP3 Audio Recorder - Record high-quality music or low-bitrate audio streams directly into compressed sound files.
Pistonsoft MP3 Tags Editor is a powerful audio tagger to edit MP3, OGG, ASF and WMA tags of audio files. MP3 Tag Editor also allows you to create playlists, rename files, organize folders, export data to different formats, and more.
Freeware BPM Detector - Count Song's Beats per Minute Automatically.
Text to Speech Converter - Convert any text, document or Web page into an audio book or voice.