Combine MP3 files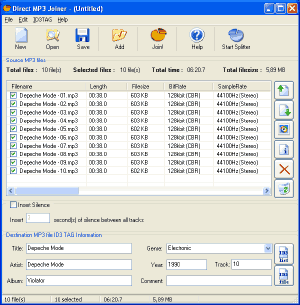 Show more testimonials...
"Direct
MP3 Joiner
is a fine product and I will enjoy using it going forward, and will recommend to anyone who might need such a program. Thanks again."
Karonh
"Excellent MP3 Software and Customer Service! I use the software to
join mp3 audiobooks
. It is very fast and sorts the files - just what I wanted. I also like the warning message when you mix bitrates. They respond very quickly to customer inquiries."
Jacob
"By the way the Direct Mp3 Joiner is a piece of software which has changed my music collection and for the better, best piece of software I have bought. I'm not just saying that to butter you up, because you know its an excellent addition to a music collection without me telling you. Thanks in advance for any reply you give."
Kluge
Direct MP3 Joiner creates innovative solution! About four months ago, we traded a few emails regarding the MP3 song limit in the Zumo 550. It all started when I contacted Garmin Technical Support to see if there was a way to increase the MP3 song limit to more than 1,000 songs. As you may recall, the long and short of it was that the Zumo's Library database was capped at 1,000 entries and Garmin didn't feel it was possible to increase that capacity.
I have come up with a workaround that has enabled me to put almost 4,000 songs (13 GB of MP3 files) on my Zumo. I now have my entire music collection (almost 300 albums) incorporated into my GPS/Navigation/Photo Album/Bluetooth Interface/MP3 Player - all in a single handheld device - on my motorcycle, in my car, or at my desk. Is that way cool, or what? I mothballed my IPod and now carry all the music I own on my Zumo (with space for more if I need it).
Want to know how? It hit me about a month ago. I realized the Zumo doesn't care how large the MP3 file is. Whether it's a 4MB file or a 100MB file, it still gets stored as one song - out of 1,000 available. So I bought a copy of Direct MP3 Joiner from Piston Software. I used it to combine all the mp3 songs from each album into a single, large MP3 file. 300 albums = 300 songs as far as the Zumo is concerned. I kept some songs separate as singles for easy access. So, right now, I have about 450 "songs" on a 16GB SD card. And it works great. The best thing is that I've got plenty of room for more songs/albums as my collection grows.
Garmin matters to me and I want the Zumo to become more popular. If there are other Zumo owners (or potential Zumo owners) out there who have the same dissatisfaction I had with the imposed song limit, I hope that you will help spread the word that all is not lost. It's not a perfect solution but, when I get a wild hair to listen to a particular song that comes to mind, it's right there. All the best, Rick.
---
If you want to split MP3 or WAV files into parts, use Direct WAV MP3 Splitter.
If you want to join multiple MP3 files, use Direct MP3 Joiner.
To convert audio files between various audio formats and rip CD audio tracks directly to MP3, WMA, WAV, OGG, FLAC, Monkey's Audio APE or MusePack MPC, use Direct Audio Converter and CD Ripper.
If you want to quickly convert MIDI to MP3, please use Direct MIDI to MP3 Converter.
MP3 Audio Recorder - Record high-quality music or low-bitrate audio streams directly into compressed sound files.
Pistonsoft MP3 Tags Editor is a powerful audio tagger to edit MP3, OGG, ASF and WMA tags of audio files. MP3 Tag Editor also allows you to create playlists, rename files, organize folders, export data to different formats, and more.
Freeware BPM Detector - Count Song's Beats per Minute Automatically.
Text to Speech Converter - Convert any text, document or Web page into an audio book or voice.