Direct WAV MP3 Splitter - Splitting easily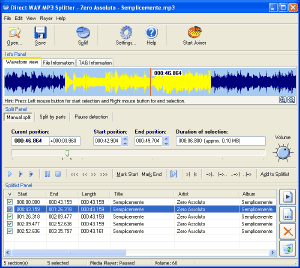 Show more testimonials...
"I purchased your
Direct WAV MP3 Splitter
to use to split audio book files into smaller chapters for use with my MP3 player. I love the product - fast, easy to use - great results."
Edward Hartmann
"I'm impressed with your
MP3 Editor
and will keep it in mind for future use. That being said, your program was quick to learn and extremely easy. If I come across anyone who needs to do any mp3/wav splitting, I'll highly recommend your program. It's great and helpful. I will use it if I need it in future. Your programs are better and user friendly than other similar softwares."
Ken Taylor
Our life is inevitably connected with music. Music is needed as deeply as the air we breathe in, the water we drink, and the food we eat.
Nowadays, we have an excellent opportunity to hear music every single minute of our life, using our CD and MP3 players, mobile phones, etc. However, what if your memory card is not large, or you do not like a part of a tune, or for example, you want to have a refrain of your favorite song as a ringtone? – Now you have brilliant software that can solve all your problems, Direct WAV MP3 Splitter.
Direct WAV MP3 Splitter is unique software designed for splitting MP3 and WAV files without the recompression. With Direct WAV MP3 Splitter you can quickly and easily split your audio files: audio books, podcasts, ripped CD audio tracks, audio tapes etc and save results into new files.
It is as simple as ABC. You just open the tune you want to split, listen to it over the build-in audio player, select the passage you like and add it to split-list. In addition, you have wave graphics that can ease your job. You can play a selected section as many times as you like, with the speed you like: double or half; and if it is all right, you fulfill the split. By the way, you can automatically split MP3 or WAV files into equal-sized parts using split by time, size or number of parts, use automatic silence, or pause detection.
Direct WAV MP3 Splitter is a great automatic WAV and MP3 splitter that can easily handle your audio files.
---
If you want to split MP3 or WAV files into parts, use Direct WAV MP3 Splitter.
If you want to join multiple MP3 files, use Direct MP3 Joiner.
To convert audio files between various audio formats and rip CD audio tracks directly to MP3, WMA, WAV, OGG, FLAC, Monkey's Audio APE or MusePack MPC, use Direct Audio Converter and CD Ripper.
If you want to quickly convert MIDI to MP3, please use Direct MIDI to MP3 Converter.
MP3 Audio Recorder - Record high-quality music or low-bitrate audio streams directly into compressed sound files.
Pistonsoft MP3 Tags Editor is a powerful audio tagger to edit MP3, OGG, ASF and WMA tags of audio files. MP3 Tag Editor also allows you to create playlists, rename files, organize folders, export data to different formats, and more.
Freeware BPM Detector - Count Song's Beats per Minute Automatically.
Text to Speech Converter - Convert any text, document or Web page into an audio book or voice.