WAV MP3 Splitter review and download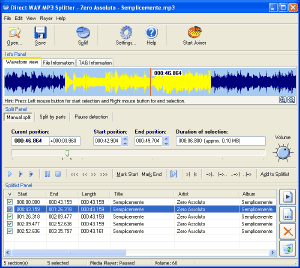 "I purchased your
Direct WAV MP3 Splitter
to use to split audio book files into smaller chapters for use with my MP3 player. I love the product - fast, easy to use - great results."
Edward Hartmann
With its precision control and easy-to-use interface, Direct WAV MP3 Splitter allows you to split MP3 and WAV files in a variety of ways. This utility will automatically split an MP3 or WAV into equally sized parts by time or size, then save them in new files. You can also cut where you desire and a playback tool allows you to do so with exactitude. This program also features a pause detection feature that finds the pauses between tracks, should you be digitizing an album.
The program is pretty simple to use. The interface is clear and clean, but it won't win any design awards. However, it's an auditory medium and along those lines Direct WAV MP3 Splitter does exactly as it claims.
PCWorld.com
---
If you want to split MP3 or WAV files into parts, use Direct WAV MP3 Splitter.
If you want to join multiple MP3 files, use Direct MP3 Joiner.
To convert audio files between various audio formats and rip CD audio tracks directly to MP3, WMA, WAV, OGG, FLAC, Monkey's Audio APE or MusePack MPC, use Direct Audio Converter and CD Ripper.
If you want to quickly convert MIDI to MP3, please use Direct MIDI to MP3 Converter.
MP3 Audio Recorder - Record high-quality music or low-bitrate audio streams directly into compressed sound files.
Pistonsoft MP3 Tags Editor is a powerful audio tagger to edit MP3, OGG, ASF and WMA tags of audio files. MP3 Tag Editor also allows you to create playlists, rename files, organize folders, export data to different formats, and more.
Freeware BPM Detector - Count Song's Beats per Minute Automatically.
Text to Speech Converter - Convert any text, document or Web page into an audio book or voice.