WAV MP3 Splitter review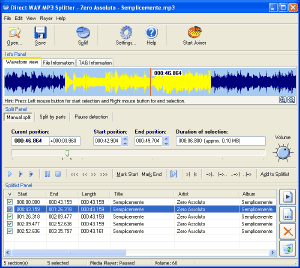 "I'm impressed with your
MP3 Editor
and will keep it in mind for future use. That being said, your program was quick to learn and extremely easy. If I come across anyone who needs to do any mp3/wav splitting, I'll highly recommend your program. It's great and helpful. I will use it if I need it in future. Your programs are better and user friendly than other similar softwares."
Ken Taylor
You can do a lot of things like trimming, splitting and cutting automatically, semi-automatically of manually. The most powerful ability of the program is lossless manipulation of source audio regardless of its format. Spliter doesn't recompress your files - you will not lose any detail of your audio. Features of this outstanding splitter tool give you an ability to automate your most time-consuming tasks. All brand new feature called "Pause detection" can take to pieces your audio automatically. Due to visual abilities of the program you will cut, slice and trim your mp3 files with visual indication of the process. You can play back your audio with easy-to-use internal player. Also, there is ability to adjust speed of playback so you can shorten the time of col-sm-12ew too. You can drag your files and drop them into window of the program. All these useful abilities make usage very pleasant.
In total, Direct WAV MP3 Splitter has every tool and ability for audio manipulations with single or multiple audio files. You will not need anything else neither for splitting or cutting, nor for the trimming.
Music Tools
---
If you want to split MP3 or WAV files into parts, use Direct WAV MP3 Splitter.
If you want to join multiple MP3 files, use Direct MP3 Joiner.
To convert audio files between various audio formats and rip CD audio tracks directly to MP3, WMA, WAV, OGG, FLAC, Monkey's Audio APE or MusePack MPC, use Direct Audio Converter and CD Ripper.
If you want to quickly convert MIDI to MP3, please use Direct MIDI to MP3 Converter.
MP3 Audio Recorder - Record high-quality music or low-bitrate audio streams directly into compressed sound files.
Pistonsoft MP3 Tags Editor is a powerful audio tagger to edit MP3, OGG, ASF and WMA tags of audio files. MP3 Tag Editor also allows you to create playlists, rename files, organize folders, export data to different formats, and more.
Freeware BPM Detector - Count Song's Beats per Minute Automatically.
Text to Speech Converter - Convert any text, document or Web page into an audio book or voice.