Music Notation Software for Musicians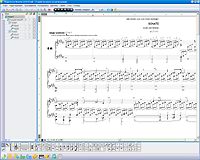 Download
|
Buy now!
MagicScore is simply amazing music notation software! Its stunning interface and comprehensive features make it the smart choice for
Musicians;
Composers;
Performers;
Teachers;
Students;
Choirs;
Ensembles;
Song Writers;
Music Lovers;
Music Schools;
Music Professionals;
Music Innovators and Trailblazers.
Publisher:
MusicalEditor.com
The
MagicScore
software offers excellent capabilities which facilitate the creation of compositions of any complexity, including polyphonic ones.
Use the file Piano!
Use the file Guitar fingerboard!
Score your entry using your own MIDI-device!
Create and work with chords!
Edit and make fine adjustments to phonation in your compositions!
These and numerous other features of
MagicScore
are provided to assist and support you in your creative work. We are confident that the more you experience its extensive capabilities, the more you will come to enjoy using MagicScore!
Just imagine the possibilities!
Soon you will experience the effortless joy of creating and playing your own compositions. Visualize being able to adjust the performance and appearance properties of each note and even of your entire composition with exacting precision!
Once you realize the return on investment this software provides you with its ease of use and rich set of features you will want to own it just as so many of your colleagues do. Preparing yourself for concerts and performances has never been easier! MagicScore will eliminate all of the normal aggravations from the process of composing, leaving you free to express your creativity like never before! Take advantage of our free 30 day trial, and become a believer. MagicScore will turn you into the musician you've always known you were meant to be.
MagicScore music notation software provides you with the absolute best value for your investment dollar!
---
If you want to split MP3 or WAV files into parts, use Direct WAV MP3 Splitter.
If you want to join multiple MP3 files, use Direct MP3 Joiner.
To convert audio files between various audio formats and rip CD audio tracks directly to MP3, WMA, WAV, OGG, FLAC, Monkey's Audio APE or MusePack MPC, use Direct Audio Converter and CD Ripper.
If you want to quickly convert MIDI to MP3, please use Direct MIDI to MP3 Converter.
MP3 Audio Recorder - Record high-quality music or low-bitrate audio streams directly into compressed sound files.
Pistonsoft MP3 Tags Editor is a powerful audio tagger to edit MP3, OGG, ASF and WMA tags of audio files. MP3 Tag Editor also allows you to create playlists, rename files, organize folders, export data to different formats, and more.
Freeware BPM Detector - Count Song's Beats per Minute Automatically.
Text to Speech Converter - Convert any text, document or Web page into an audio book or voice.